Do not bring crowds to EACC, Waqo tells summoned officials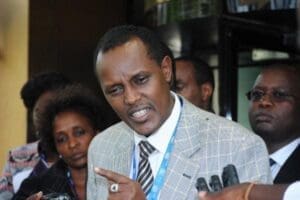 Individuals summoned for questioning by the EACC have been asked to go with advocates or witnesses, not crowds of supporters.
In a statement to newsrooms on Monday, CEO Halakhe Waqo asked members of the public to avoid being misused.
"This practice only serves to cause distraction in our offices as well as interfering with provision of services to other citizens," he noted.
"The commission shall not and has not been deterred from undertaking its mandate by the presence of such crowds whenever they appear."
Waqo said those accompanying people under investigation will only be granted access if they show proper identification.
He asked those summoned to submit evidence and record statements within allotted time frames to avoid inconveniences.
Crowds of supporters have accompanied leaders including Nairobi Governor Evans Kidero and Mombasa's Hassan Joho to the EACC.
Hundreds of Kidero's supporters flocked Integrity Centre chanting songs in his praise as the interrogation went on.
Their attempt to enter the EACC headquarters forcibly was thwarted by Administration Police officers manning the gate.
ODM Nairobi officials, led by former mayor George Aladwa, mobilised party supporters to turn out in large numbers and march peacefully to the EACC headquarters in Joho's support.
– the-star.co.ke