Humor:Top Ten Reasons Why Clinton is in Kenya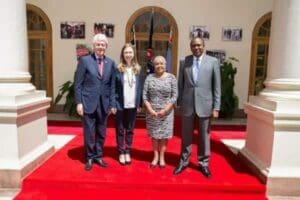 With too many questions being asked about The Clinton Foundation:
Top Ten Reasons Clinton is in Kenya
'
10: Thinks he can bring 'Hope' to Kenya
9: Hillary has too much time and is spending them in the house: Must get out of there
8. Tired of white meat
7. Bud-weiser doesn't help anymore: Need a tusker
6. Too much time in his hand
5. Heard William Kabogo had too much money: needs some for Hilary's campaign
4. The Republicans are closing in on His Foundation
3. Too many questions about foreign donations
2. He needs to transfer money to Equity Bank: too many accusations about corruption
1. He needs encouragement from Kenyans: Corruption? What is that?
By Teddy Njoroge Kamau (PhD) HTBluff Associates. An EMG Consortium #HTBluff. Diaspora Messenger Columnist.