Kenya will not allow homosexuality, says DP Ruto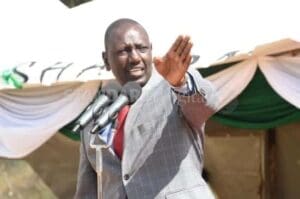 The Deputy President has assured the religious community of the government support in opposing the introduction of same sex relations in the Kenyan society.
"We will stand with religious leaders to defend our faith and believes. We will not allow homosexuality in our society as it violates our religious and cultural believes.
Mr. Ruto was speaking during a church service at Jesus Winner Ministry in Kasarani where he was accompanied by his wife Rachel. Early last week a court ordered the Attorney General and the National Council of NGOs to register a gay's organization arguing that the constitution protected the rights of minorities such as homosexuals.
'There's no room for homosexuality in this country. That one I can assure you', Mr Ruto assured the cheering congregation. 'When we say this we are not saying so as to get votes but to protect what we all believe is not right,' he added.
The Deputy President said contrary to what critics were saying, Kenya was on the right track as the government implemented a series of projects. He said the visit by US President Barack Obama in July was an indication that the Government is headed in the right direction contrary to opinion by critics.
"All this leaders will not have come or expected to come if the country was headed in the wrong direction" he said. Mr. Ruto assured Kenyans of the governments' commitment to unite Kenyans and fight tribalism and tribal leadership.
-standardmedia.co.ke