Kenyan climber narrowly escapes death in Nepal earthquake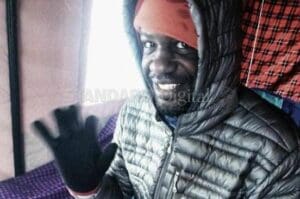 Steve Obbayi is a daring man. Very daring. Twice, he has tested the gods of Mt Everest. Twice, the gods have turned him away.
When last week's earthquake shook Nepal to the core claiming over 5,000 lives, Mr Obbayi, 39, was on his second attempt to conquer the highest peak on earth.
The earthquake, measuring 7.8 on the Richter scale, triggered an avalanche that destroyed the entire base camp claiming the lives of more than 18 fellow climbers.
Obbayi missed death by one day. When the earthquake and the resulting avalanche hit, he had left base camp and was already up in Camp 2 and thus out of immediate danger
Base camp, where much of the destruction took place is 18,000 feet above sea level. This is slightly higher than Batian peak, Mount Kenya's highest point, meaning that Obbayi's mettle had already taken him higher than Africa's second highest point.
Having conquered Mount Kenya and the continent's highest mountain, Kilimanjaro, Everest was meant to be the ultimate challenge.
News of his dramatic rescue was communicated by Emmanuel Mutuma, marketing manager of BrighterMonday, the online jobs portal that has sponsored him on the two hiking expeditions.
"Obbayi left the country at the end of last month and had already climbed to the second camp when a huge avalanche triggered by the earthquake rolled down the mountain flattening everything on its path. More than a dozen climbers were killed and the base camp destroyed in what has turned out as Everest's worst disaster," says Mutuma.
Back home, the only source of information were the updates he regularly made on his Facebook page. A post on April 21 stated that he and his team were in the initial phase of the climb, having finished their final training.
Good wishes
"Final day's trekking and training for Steve (Obbayi) and Karma, the BrighterMonday.com Everest Expedition. Tomorrow, they head through the Icefall to Camp One. They will stay overnight there, then move up to Camp Two for a 'touch and go' before descending to Base Camp to rest and allow the body to acclimatise to their new high point. Send your good wishes to the team, this is where it starts to get really hard," it stated.
Interestingly a day earlier, Obbayi had posted photos of himself with the Kenyan flag fluttering nearby, while he conducted the Sherpa Puja ceremony, a prayer to the gods for permission to climb as well as a blessing for a safe and successful expedition. Sherpa is a tribe in Nepal known for its mountaineering skills and members are specially used as Everest mountain guides.
According to Mutuma, it took time for anyone to make contact with Obbayi and his team after the earthquake struck due to the massive collapse of the telecommunication system in much of Nepal.
"We have since established contact with the expedition handler and are happy to say that Steve is safe and has been evacuated by a chopper together with those in his group. He was one day lucky having climbed higher than those who lost their lives at the lower altitude. He is currently at base camp from where he and the other survivors are accessing the situation," he added.
Mutuma is yet to fly to Kathmandu as the situation there is still dire.
This was Obbayi's second attempt to conquer Everest. On March 24 last year, Obbayi and his colleague and Everest Expedition founder Toby Storie-Pugh, had a worthy cause in their first quest to climb Everest.
To get their bodies in the right mood for mountain climbing, the pair set up camp at the foot of the Aberdares accompanied by cheering locals, both on foot and boda bodas.
Apart from inspiring Kenyans to chase their life-long dreams, the duo wanted to raise awareness for the world's most neglected development issue, sanitation.
"The ultimate goal in this expedition is to show that a regular guy from Africa is capable of achieving in non-traditional areas. Go out there, take the first step, keep a focused eye out and the pieces will fall into place. Your dream will turn into reality," Obbayi said at the time.
The dream turned into a nightmare when an avalanche that claimed the lives of 13 climbers halted his plans.
-standardmedia.co.ke