Kenyan man offers 50 cows for Malia Obama's hand in marriage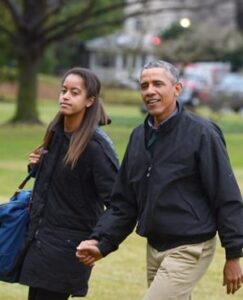 Nairobi – A Kenyan lawyer has offered US President Barrack Obama 50 cows, 70 sheep and 30 goats for his daughter's hand in marriage.
Speaking to The Nairobian, Felix Kiprono said his dream is to marry one of Obama's daughters, Malia, and he is ready to meet Obama to discuss the matter when he visits Kenya in July.
This is not the first time Kiprono is making headlines, he hit the headlines in October last year when he filed a case seeking to have Deputy President William Ruto sworn in as president when President Uhuru Kenyatta travelled to The Hague for the hearing of his case at the ICC.
He said he has never dated anyone since he got interested Malia in 2008 and even went ahead to inform his family members who said they are willing to help him raise the bride price, should the Obamas agree to his offer.
Kiprono said he is writing a letter to Obama asking him to be accompanied by Malia when he visits Kenya to prove his seriousness over the matter.
He said the letter will be handed over to the US ambassador to Kenya and hopes it will be delivered to Obama.
This is not the first time a Kenyan man has declared interest in marrying from the United States' first family.
In 2002, Godwin Kipkemoi, also offered 40 goats and 20 cows to marry Chelsea Clinton, the daughter of the then US President Bill Clinton.
He wrote a letter to Bill Clinton through Kenya's foreign minister to have Chelsea's hand in marriage.
Kipkemio gave up on the long wait for a response from the Clintons and got married to his college mate in 2006.
He never lived to see his dream of marrying Chelsea come true after he was killed in an attack by a stray elephant in 2014.
-news24.co.ke