Kenyan Woman Emily  Chepngeno Pearson Passes Away In UK

Kenyan Woman Emily  Chepngeno Pearson Passes Away In UK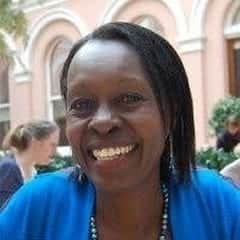 It is with sadness we announce the death of Mrs Emily  Chepngeno Pearson (formerly known as Stratford) at Princess Alice Hospice on the 29th April 2015, after a bravely fought battle with cancer.
Emily hails from Bomet County and is the daughter to Mr Edwin (deceased) and Mrs Alice Koske. She was the fifth born and a sister to  Nelson (USA), Jane (Kenya), Florence (Kenya), Joel(USA),Dorothy (Kenya),Richard (USA), Vera (Kenya) and Walter(Kenya).
She was the loving wife of Nick and doting mother to Ewen, Katie, Alicia and Shanona. She was a stepmother to Ellie and Esther.Emily was a grandmother to Angelica and a mother-in-law to Caroline.
To celebrate her life, friends and family are meeting at The Lighthouse, 27 Seaforth Avenue, New Malden, Surrey KT3 6JR on Saturday, 8th May 2015 from 1pm to 4pm.
The funeral will take place on Monday, 11th May 2015 at Kingston Cemetery and Crematorium, Bonner Hill Road, Kingston Upon Thames, KT1 3EZ at 1.30pm and the celebration of her life will be at a venue to be confirmed.
Emily was a lady who loved life and colour and the family would like to request that those who attend the funeral wear colourful clothes to reflect and celebrate her life.
The family have kindly requested no flowers at the funeral but those wishing to make a donation can do so, to the Princess Alice Hospice in Esher, to whom the family are thankful to for the quality of care she received there.
This can be done online via Just Giving at: www.justgiving.com/Emily-we-love-you.
Any queries can be made to Kathy 07946883639, Lola 07795056564, Grace 07952347960 or Val 07459368076.
Kenyan Woman Emily  Chepngeno Pearson Passes Away In UK