Raila 2017 campaign throws Cord into confusion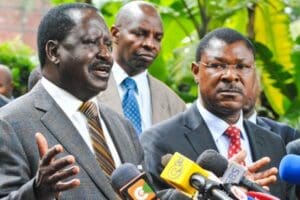 KALONZO Musyoka and Moses Wetang'ula have been caught off-guard by Cord leader Raila Odinga's aggressive 2017 presidential early campaign.
The two, who are Raila's co-principals in the opposition coalition, have been reduced to mere spectators in the battle for the 2017 Cord ticket, raising doubts about their preparedness to run for the top seat.
While Raila is running high-flying strategic meetings with supporters, renewing friendships with former allies and apparently positioning himself, Kalonzo and Wetang'ula seem to be completely bogged down by lack of finances.
Raila's campaign team has already rolled out an elaborate vote-hunting machinery that includes a dedicated website and a short text message platform to connect with supporters throughout the country and in the diaspora.
The Cord leader's team is also traversing the country mobilising the youth to register as voters following research reports that Raila lost the 2013 polls because his supporters did not register as voters.
However, Kalonzo and Wetang'ula, both of whom have declared their 2017 presidential bids, are yet to actively mount significant early campaign launches to buttress their support and woo voters outside their backyards.
This is despite concerns that Jubilee has been raiding Cord strongholds in the Ukambani and Western regions and wooing them with state appointments.
Several politicians from the two Cord backyards were named as heads of parastatals in the recent changes made by President Uhuru Kenyatta that saw former Saboti MP Eugine Wamalwa named Water CS.
"We are shocked that Kalonzo and Wetang'ula are not preparing for the presidency. Our expectations are that since they are Raila's co-principals they should at least be showing signs of successfully challenging Jakom for the Cord ticket. As things are, they are just playing second fiddle," a senior Cord member from Western Kenya told the Star on the phone yesterday.
He said both Kalonzo and Wetang'ula have failed to demonstrate political independence.
"These gentlemen are just day dreaming that at this rate they can expect Raila to eat humble pie and support one of them. That is just a castle in the air, the reality will dawn on them that they lack enough grassroots support to compete with Raila."
Kalonzo has said he expects Raila to reciprocate and return his gesture and support of 2013 and back him in 2017.
Kalonzo backed retired Mwai Kibaki during the post-election violence crisis of 2007-08 and was made Vice President.
"I am ready to die for a brother. I wonder if they [Raila and Wetang'ula] are also ready to do the same?" Kalonzo has said, adding, "In 2013, I put the interests of the nation above myself and supported Raila".
– the-star.co.ke