State deploys 10,000 NYS cadets to unclog Nairobi drainage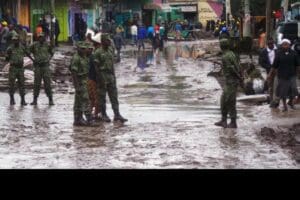 The government has mobilised 10,000 National Youth Service officers to help unclog drainage systems in Nairobi.
Devolution CS Anne Waiguru said this was a short term measure to offer reprieve to commuters and motorists.
"NYS is assessing the drainage situation in Nairobi city and assisting residents in the affected areas," Waiguru said during a visit to Kibera on Wednesday.
She said servicemen who recently graduated from the NYS will be deployed immediately to support the county government.
Waiguru said 2,000 youth in South B's Fuata Nyayo slum will be mobilised to work with 300 servicemen starting Thursday.
She proposed that the county deter encroachment of land along watercourses and floodplains, which are at risk of flooding, as a long term measure.
This comes after hundreds spent Tuesday night out in the cold following a heavy downpour that brought the city to a standstill.
Houses were flooded, vehicles half-submerged in water while most roads were turned into lakes, becoming impassable.
Some residents spent the night by the roadside while others sought refuge in schools and with relatives as a result of the rain that started at about 7pm.
Twenty eight people have been reported dead so far.
– the-star.co.ke