I am not too old to vie for presidency in 2017 – Raila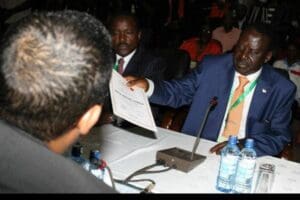 Cord leader Raila Odinga has declared his intention to vie for presidency in the 2017 general election saying he is not yet too old.
"If you look at me, I am not aged, I am physically and mentally fit. I have what it takes to run for the 2017 presidency," Raila said during an interview in Citizen TV on Wednesday.
He said he will not turn down an opportunity to contest in the election and to fight for justice if he is chosen as the party flag bearer.
Raila said as president, he will address issues of key concern to Kenyans.
He accused the Jubilee government of failing to address corruption, noting however that President Uhuru Kenyatta has "tried" but is tackling the issue wrongly.
"Nobody is indispensable. If I were president I would ensure institutions to deal with corruption are functional. I would also make sure corrupt officials are suspended with immediate effect," he said.
"It is very unfortunate that suspended officials like Kazungu Kambi continue receiving full pay and benefits even after stepping aside."
Raila said it will remain impossible to deal with corruption as state officials tasked with stopping it are involved.
Kenya is facing a crisis that must be solved if Deputy President William Ruto can be implicated in graft, he said.
"The corruption that is most concerning, is mega corruption involving senior government officials and It is unfortunate that Ruto has been mentioned in several scandals and no action is being taken," he said.
Raila said the Ethics and Anti-Corruption Commission is dysfunctional because it has no commissioners adding and is now prone to misuse.
He further noted that Public Accounts Committee members were not given adequate chance to defend themselves.
"Allegations against the PAC were serious and those accused should be prosecuted instead of just being sent home," he said.
– the-star.co.ke