William Ruto to rivals: Change your style of politics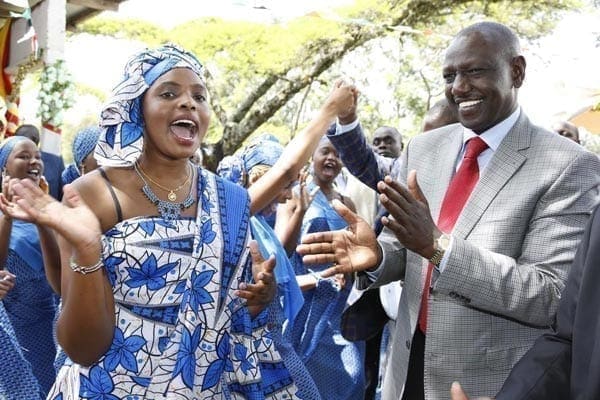 Deputy President William Ruto on Sunday told off the Opposition, saying no amount of "noise" would deter the governing Jubilee Coalition from implementing its development agenda.
In an apparent broadside at Cord leader Raila Odinga, he said the Jubilee administration was interested in working for the public, not story-telling.
"We must look for ways of uniting all Kenyans," said Mr Ruto at Nyansiongo Catholic Parish of Borabu constituency, Nyamira County during a special offering in aid of the church.
"Myself and the President are ready to work with all Kenyans and all elected leaders in the country irrespective of their political affiliations. The Opposition should follow suit instead of making a lot of noise."
He spoke a day after an opinion poll by Ipsos-Kenya said that Kenyans would like both President Uhuru Kenyatta and Mr Ruto to address the fear of possible ethnic violence, eight years after a similar spate led to the deaths of 1,133 people.
The latest opinion poll showed that more than half of Kenyans are either certain or think there is a possibility of violence if Mr Ruto is convicted in the ongoing case against him at the International Criminal Court (ICC).
Mr Ruto is facing charges of being "criminally responsible as a co-perpetrator" to the crimes against humanity for murder, deportation and persecution of civilians.
Radio presenter Joshua arap Sang, the other remaining suspect, is facing similar charges in connection with the 2007/2008 post-election violence.
After interviewing 1,964 adults between March 28 and April 7, the pollsters said they found that Kenyans are equally divided on whether they feel the cases facing Mr Ruto and Mr Sang will lead to a conviction.
But when asked: "How likely do you think it is that there will be any violence if Ruto is convicted?" nearly a third (27 per cent) of respondents said they were "certain" while a similar fraction said it is "possible" there will be violence.
On Sunday, Ipsos clarified that it did not ask Kenyans where the violence will be or who the perpetrators or their targets could be.
However, the findings indicate just a third of Kenyans are certain there will be no violence if the ICC cases end in a conviction.
"There have been some changes at the ICC with the prosecutor saying the evidence at hand is weak. This shows we could probably get a lower figure of those worried about violence if we went back to ask them," Ipsos Research Analyst Tom Wolf said on Sunday.
In an interview last year, former ICC Prosecutor Luis Moreno-Ocampo admitted there had been diplomatic pressure to have Mr Kenyatta and Mr Ruto thrown out of the race for State House. However, he argued, the two had been "smart" to preach unity between Rift Valley and central Kenya communities.
"They made an alliance and they presented themselves as the reconciliation process," Mr Moreno-Ocampo told Radio Netherlands Worldwide in a January 21, 2014 interview.
On Sunday, Mr Ruto said a good leader is one who can unite all Kenyan communities and who is ready to work with even those who do not support him or her politically.
"Hii serikali ni ya kufanyia wananchi kazi, (This is a government that works for all Kenyans)," he said.
"Still some people are making noise that this and that has not been done by Jubilee government. Such people are fond of divisive politics and they keep reminding others that so and so is from this or that tribe," said Mr Ruto.
Such politics has been overtaken by events and those spearheading it have no space in the present Kenyan politics, he said.