President Uhuru hosts Raila Odinga's rivals from Nyanza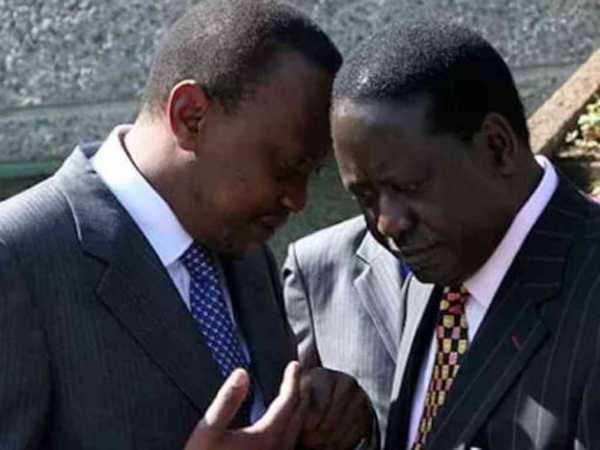 President Uhuru Kenyatta Thursday hosted a group of MPs from Cord leader Raila Odinga's backyard, Nyanza, at State House in what could be a bid to make political inroads into the region.
On the face of it, the purpose of the meeting was innocent enough: to make plans for an anti-malaria campaign.
However, given that it was attended by MPs seen as defying the ODM discipline, it is the symbolism of it that is likely to lead to conclusions that it is a political move by Mr Kenyatta against Mr Odinga.
The Cord leader is heading to Busia County this weekend in an effort to stabilise his shaky Western Kenya sphere of influence, whose leaders have launched a fresh regional unity campaign.
The Luhya unity politics champions the emergence of a presidential candidate from western Kenya, a challenge to Mr Odinga's regional supremacy.
MEETING ORGANISED BY OBADO
The State House visit by the lawmakers from Migori County was organised by Governor Okoth Obado — an ally of Deputy President William Ruto — and Rongo MP Dalmas Otieno, who has declared his intention to lead a movement distinct from ODM in Nyanza.
A first by legislators from the ODM-dominated county since President Kenyatta was elected, the purpose of the visit was said to be planning for the Head of State's tour of the region and launch an anti-malaria drive on Monday.
"Yes, the President met a group of leaders from Migori to discuss the Monday trip. He will launch the distribution of nets as part of an anti-malaria campaign since the county is one of the most affected by malaria," said State House spokesman Manoah Esipisu.
He said the trip was being coordinated by the Health ministry.
Those in attendance were Mr Obado, Mr Otieno, Senator Wilfred Machage and MPs Omondi Anyanga (Nyatike), John Kobado (Uriri), Robi Mathias (Kuria West) and Shadrack Manga (Kuria East).
Vocal Suna East MP Junet Mohammed was left out by his colleagues who organised the meeting. Migori County Women Representative Dennita Ghati did not attend either. The two are loyal to Mr Odinga.
"They did not inform me about it probably because of my political position. But even if they did, I would have done a lot of soul searching on whether to attend the meeting or not," said Mr Mohammed.
ODM LEADERS QUESTION MOVE
Mr Odinga, through his spokesman, Mr Dennis Onyango, said MPs should consult the party on issues which have implications on its unity.
"The party was not involved in organising the meeting. While it does not insist on being involved in decisions MPs make in their day-to-day duties, it believes and hopes moves with serious implications are made in consultations with the people," he said in a statement.
Cord deputy Minority Leaders Jakoyo Midiwo questioned the decision to exclude some MPs from the delegation.
"I was not consulted over the visit. I just heard some MPs went while others were excluded," he said by phone.
Mr Kenyatta's State House minders were privately briefing that the MPs had declared a readiness to work with Mr Kenyatta for the sake of development in the area, political code for willingness to shift political allegiance. Both Mr Otieno and Obado are perceived as having a close working relationship with the President.
Mr Odinga has lined up a series of events in Busia County tomorrow to shore up his support following a decision by some leaders from the region to start shopping for a common party in readiness for the next General Election.
In a move to repair his relationship with Budalang'i MP Ababu Namwamba, Mr Odinga is expected to join the MP tomorrow at the launch of Okoa Kenya's signature collection drive in the constituency.
Later he will be hosted in Matayos at the homecoming prayers for area MP Geoffrey Odanga who is a member of ODM.
President Uhuru hosts Raila Odinga's rivals from Nyanza