Battle for 2017 votes shifts to IDentity cards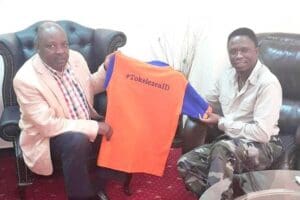 THE 2017 presidential contest has shifted to voter registration, with statistics indicating that over 1.2 million Kenyans acquired new ID cards in 2013 alone.
The new figures emerged as Kenya's embassy in the US announced that it was rolling out massive ID registration – a prerequisite for voter registration – for Kenyans living in the diaspora.
"The Embassy of the Republic of Kenya is pleased to announce that it will carry out a National Identity Card registration exercise in Minneapolis, Minnesota, from Saturday, June 6, 2015 – Sunday, June 7, 2015," the Kenyan embassy, headed by Ambassador Njeru Githae, announced.
A statistical analysis by the IEBC indicates that 1.2 million Kenyans registered for new IDs after the disputed 2013 Presidential poll, which candidate Uhuru Kenyatta was announced as having won on the strength of voter registration and turnout in his strongholds.
Cord leader Raila Odinga, who is laying the groundwork for what is expected to be a do-or-die battle for the presidency, is already moblising his support base for a huge voter registration.  "For a period of one year since the 2013 general elections, no registration of voters took place.
This is in contrast to the performance of the National Registration Bureau that registered 1.2 million identification card holders over the same period," the IEBC's 2016-2017 Strategic Plan reads in part.
The Isaack Hassan-led commission has since launched continuous voter registration at constituency offices. However, IEBC officials have decried low voter registration.
Yesterday, a source at the National Registration Bureau told the Star that they had registered over 2 million Kenyans after the 2013 polls.
"I am certain we have registered more than 2 million people. The problem is that thousands of IDs remain uncollected across the country," this source said.
According to IEBC projections, a total of 25.7 million Kenyans will be eligible to vote in the 2017 polls.  This means that an additional 11.4 million Kenyans could vote in the next poll, presenting a completely different political scenario for leading presidential contenders.
Only 14.3 million Kenyans were registered as voters in 2013.  The ODM brigade, led by secretary general Ababu Namwamba, has launched a campaign dubbed "Tokelezea ID" to fill the shortfall blamed for Raila's loss in the last election.  The Jubilee Alliance Party is also rallying its supporters, especially in the populous Mount Kenya region, to register ahead of 2017 general election.  However, Homa Bay Senator Moses Kajwang has protested what he termed as undue delays in the issuance of more than 10, 000 ID's, some outstanding for more than six months.
" I will demand a statement from Minister Nkaissery to explain the undue delays as well as measures being taken to ensure the held up IDs are released within 30 days. I will also demand that action must be taken against those who supplied sub standard photo printing paper to the Registrar," Kajwang said.
An analysis in the IEBC's strategic plan indicates that a large number of potential voters in perceived Cord political turfs did not register as voters in 2013 polls.
It also indicates that arid areas were among the worst hit- with up to 70 per cent of eligible voters in Turkana remaining unregistered.
While a a record five counties in Raila's Nyanza was rocked by low voter registration, non of the regions in President Uhuru Kenyatta's Central backyard featured in the list of poor registration performance- except Meru (Eastern).  In Meru, 24 per cent of eligible voters remained unregistered.
However, the statistics show taht 33 per cent of eligible voters in Migori County, 26 Per cent in Homa Bay and another 20 per cent in Siaya were not enlisted as voters in 2012.
23 per cent did not register in Kisii while another 21 per cent did not register in Nyamira.  36 per cent of eligible voters in Cord Co-Principal Moses Wetangula's Bungoma home turf also remained unregistered.
Other Western Kenya counties with high population but minimal voter registration were Busia and Kakamega with both having 27 per cent of unregistered but eligible voters.  The Luhya dominated Trans-Nzoia county also had 39 per cent of potential voters remaining unregistered.  Affected counties in Ukambani were Kitui (31%) and Makueni (27%)  ends.
– the-star.co.ke