Govt bars foreign students in Mandera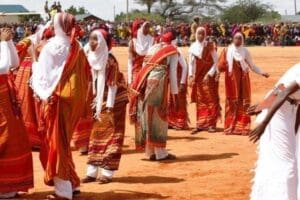 The government has banned admission of foreign students to schools in insecurity-prone Mandera County.
The Ministry of Education announced on Wednesday there would be no more admission of students from neighbouring strife-torn Somalia and from other countries.
Addressing the press at his office on Wednesday, Mandera County Director of Education Ismael Barrow said the ban follows a directive from the ministry headquarters.
However, foreign students who are already enrolled in schools will be allowed to complete their courses under close watch.
"We have collected data in the county which shows there are 890 foreign learners in both our primary and secondary schools but we shall do a follow up to verify the figures," said Mr Barrow.
He questioned the commitment of school head teachers in providing necessary information and numbers of foreign learners to the government.
Mr Barrow said schools along the Kenya-  had the highest number of foreign learners coming in from Somalia, with a common aim of acquiring Kenyan citizenship through schools.
"Most of these learners are in the private schools as the public ones have tight rules of admitting them but since people are in business, private schools don't care about verifications of one's nationality," said Mr Barrow.
Mandera County has 202 public primary and 48 secondary schools, with Mandera East (which covers Mandera town) having the highest due to its population.
The education official said there are 31 private primary schools in the county with Mandera Town leading with 25 primary and 10 secondary schools.
"We have 31 private primary schools and 12 secondary schools but most of these schools are found in Mandera, Lafey and Elwak towns due to their proximity to the Kenya-Somalia border," said Mr Barrow.
An educationist who spoke to the Nation on condition of anonymity said almost 70 per cent of foreign students are in the schools next to the border.
He said the foreign students were keener on acquiring education than the Kenyan Somalis because they knew they would get birth certificates to register for the Kenya Certificate of Primary Education (KCPE) exam.
"With a Kenyan birth certificate and result slip, they go through the system and when they turn 18, there's nothing to stop them from getting a Kenyan ID."
With such a person you cannot know where his loyalties lie," he added.
nation.co.ke