Jubilee MPs warn defiance could grow to full rebellion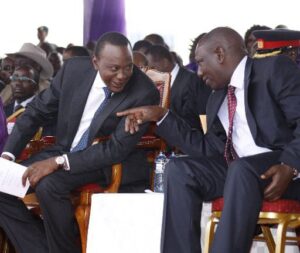 Increased agitation by a section of Jubilee MPs and the recent open defiance of government positions is causing panic within government as the President and his Deputy struggle to popularise a new party.
President Uhuru Kenyatta's recent silence on his new political outfit, the Jubilee Alliance Party (JAP) formed in February this year has also been deafening.
Yesterday Igembe South MP Mithika Linturi and his nominated colleague Johnstone Sakaja raised concerns over the level of consultations in the coalition.
While Mr Sakaja insisted that the perceived defiance were specific to certain issues and did not amount to a large scale protest against the President, Mr Linturi warned the Jubilee leadership that they would face more trouble if they did not change their style of leadership.
He accused the President and his deputy of dictatorship.
"We initially agreed that the President and his Deputy would be consulting on major national decisions. Now we only see orders being dispensed right and left. We will resist," Mr Linturi said.
The law-maker warned that many legislators were unhappy with the manner in which the two were conducting themselves adding that the situation could worsen as the country gears closer towards elections.
"They have been over confident and we think they are losing direction. They must listen to us or perish,"Mr Linturi warned.
Listing a few cases that included Dr Monica Juma's vetting which was rejected, the diminishing fortunes of the President's new party, push by some MPs to discipline DPP Tobiko Keriako and Thursdays opposition against the President's memorandum on Raila Odinga and Kalonzo Musyoka's pension, Mr Linturi warned that "hell could break loose" unless there is consultation.
"I can't just support an issue because the President has said so. Infact I have been very consistent. The lowest point in my life was when I succumbed to his pressure to drop the motion against Anne Waiguru."
Mukurweini MP Kabando wa Kabando, who has been vocal in opposing some of the positions taken by Jubilee, yesterday maintained that he was not rebelling against the President.
"Our loyalty to President Kenyatta is unflinching. Our diverse opinions reflect richness of intellectual capital," he said.
The Igembe South MP claimed that JAP was dying as fast as it came because the leadership failed to consult before it was formed.
And on the same issue, a top TNA operative claimed that the President had lost interest in the party and was restrategising.
"Have you heard the President talking about that thing called JAP. That has become a URP affair. He has realized it cannot help him win again," the TNA official said.
-nation.co.ke