Mombasa men 'sell' wives to tourists at the Diani Beach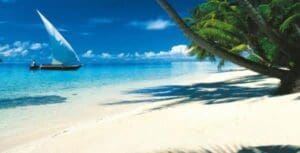 Diani being a tourist hub receives numerous foreign tourists from Western countries who visit the beach that was recently voted the best beach in Africa.
However, some of the male tourists who visit the place do not want to go back home empty handed but also with African women.
This is where money and wives change hands between the male tourists and the local beach attendants.
The tourist would request a beach trader to find him a Kenyan woman whom he would wish to marry.
Greed for money compels the beach trader to ask his wife to be married by the tourist but connives with her that they would later divorce after getting rich then they would be a couple again.
Mwinyi Almasi, who now does the house chores after selling his wife, met a German tourist who wanted a Kenyan wife and after agreeing on searching for one for him, he returned home and made a deal with his wife.
The wife now became his 'sister' and they concurred that she gets married to the German tourist and after flying abroad and getting the German citizenship, she would find a German woman for him who would marry him and after a while divorce and get back together with her in Germany.
Bad morals affecting tourism sector
Mwinyi was given Ksh 60,000 as payment for his services. This perhaps being the price he sold his wife at.
Mwinyi mentioned that he thought his wife would honor their agreement but his efforts proved futile.
A few meters, we meet Sande Peti who also 'sold' his wife at 350 sterling pounds (Ksh 53,000).
He also plotted with his wife with the hope of getting back together.
The business of wife selling is due to unemployment, poverty and high levels of illiteracy.
The Kwale County CEC in charge of Tourism Mr Adan sheikh stated that parents and religious leaders have failed to tame the youth resulting in bad morals in the Tourism sector in the area.
He added that the government has set aside a trade revolving fund to help the beach traders flourish in their businesses.
Kenya Muslims National Advisory Council (KEMNAC) Secretary General Hamisi Mwachirumu says that those who sell their wives should reveal their religions so that the leaders can know how they can be assisted.
Daisy Ngetich
-citizentv.co.ke