ODM leaders clash at Deputy President William Ruto's function in Coast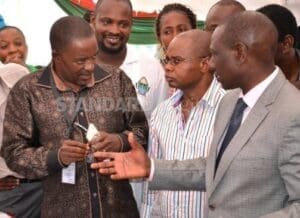 Deputy President William Ruto's tour of Coast counties has revived rifts within the Orange Democratic Movement ODM in the region and bitter rivalry between Kilifi Governor Amason Kingi and Kilifi North MP Gideon Mung'aro.
Kingi came face to face with Mung'aro and other CORD rebels from Coast where they clashed right before the DP. Today and tomorrow these differences are likely to be repeated when Ruto and his entourage travel to Taita Taveta and Kwale counties.
Yesterday, Ruto officiated the ground breaking ceremony of Mbudzi Dispensary in Ganze Constituency and later addressed the second anniversary of the founding of Kilifi County Government accompanied by Kingi, Mung'aro and other ODM leaders including Sirisia MP John Waluke.
Munga'ro accused those opposed to unity calls as people suffering from "inferiority complex" but Kingi dismissed him, saying Munga'ro was spreading lies about his administration to win over the electorate.
"We must come together and make sure we are in government in the next election," said Munga'ro.
He said the region's number of voters is expected to hit 2.2 million by the next election and it was enough to enable the region negotiate for a bigger national cake.
Governor Kingi, however, accused Munga'ro of leading a propaganda against his administration and reiterated his willingness to work with the national government.
Kingi particularly took issue with claims by Munga'ro that he refused to sign a memorandum with the national government over the hospital equipment leased from the national government.
"I want to tell you Mung'aro to stop lying to the people. During Madaraka Day you said the hospital equipment procured by the national government meant for Kilifi has been donated to Machakos County because I have refused to sign the MoU with the national government.
"I signed the MoU two months ago and the equipment will be stationed in Malindi hospital," said Kingi.
Ruto, who led several MPs in two rallies in Kilifi County, however, steered off the region's politics.
He said that Malindi Hospital and Kilifi Hospital will be equipped to the tune of Sh415 million and Sh380 million, respectfully.
The Deputy President directed provincial administrators to make sure all children go to school, saying the government has set aside enough money to fund education.
Kinango MP Gonzi Rai said most leaders at the Coast were acting like "biblical Pharisees" and challenged Kingi to stop what he termed fence sitting political tactics.
At the same time, Kwale Governor Salim Mvurya has lashed out at two unnamed political suitors for courting Nairobi Senator Mike Sonko to run against him in the 2017 elections even as Sonko dismissed the rumour as the work of his political detractors.
"The two MPs are working tirelessly to bring someone from Nairobi. They are acting as if Kwale has no qualified leaders who can be governors. But that will not stop us in our quest to serve our people," said Mvurya. "The DP will be in Lunga Lunga to give out over 40 motorbikes to the youths and lead a fund drive for churches," said Kwale Women Representative Zainab Kalekye Chidzuga yesterday.
She has in the past dismissed claims that she is among those courting Sonko to shift his political base to Kwale where he was born and bred.
-standardmedia.co.ke