ODM plans radical shake-up for 2017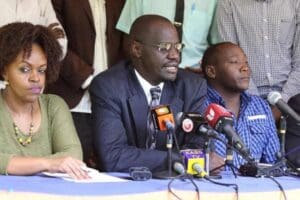 ODM leader Raila Odinga has unveiled a radical party structure as part of his 2017 re-branding strategy.
Yesterday the ODM leaders told off President Kenyatta once again, for refusing to sign into law Raila's retirement package, saying he will not be forced into quitting politics.
"At my age now, I am younger than Kibaki was when I said 'Kibaki Tosha' in 2002. He went ahead and led the country for 10 years. I am younger than Muhammadu Buhari, who has just been elected president of Nigeria.
Yoweri Museveni has been president of Uganda for 30 years and is still trying to deliver his promise to Ugandan, so I  will not be forced to quit politics by anyone," said Raila on Nation FM.
?The multi-pronged game plan involve strengthening the party leadership at the grassroots, which would be critical in mobilising  his supporters to register, vote and later "protect" their votes. ??The party, which is an affiliate of Cord, has also established an 11-member rapid-response entity known as the Central Committee to handle urgent issues.??
Consequently, the former Prime Minister, ODM think tanks and national officials have agreed on a two-tier leadership architecture, with grassroots polls kicking off next month.??"We shall have the National Party, whose highest decision-making organ is the National Delegates' Convention.
The second tier will be the County Party, whose highest decision-making organ shall be the County Delegates' Conference," ODM executive director Oduor Ong'wen announced yesterday.??In a departure from the past, ODM will elect polling station steering committee officials across the country, making the voting centers the Party's basic unit.??
Raila's narrow loss to Uhuru in the 2013 polls has been blamed on a number of factors including failure to adequately protect his votes, especially in Central Kenya.??Above the polling station will be the sub-branch at the ward level, which will be managed and coordinated by the sub-branch executive committee.??
However, the branch, managed by the branch executive committee at the sub-county level, previously referred to as the constituency
.??"All branches shall link directly with the National Executive Council through the National Secretariat," Ong'wen explained.??"At the County level, the branches shall hold an annual County Delegates' Conference which shall, among other agenda, elect a County Coordinating Committee."
??Insiders say the elaborate party structure will ensure Raila's supporters across the country register to the last man as voters and turn out to cast their ballot, reversing the ruling Jubilee administration's famed "tyranny of numbers" factor.??
Speaking to the press at Orange House, ODM headquarters, Ong'wen, who took over from former Kipkelion MP Magerer Lang'at, disclosed that that the party has also restructured the composition of its National Delegates' Conference to reflect its strength across the country.
?? "ODM has the highest number of members in Homa Bay county, followed by Busia. So there is no way we can have more delegates from Kiambu than from these two regions," he stated.
The party's National Elections Board, headed by Judy Pareno, is scheduled to announce a comprehensive programme for the grassroots elections next month.?? The Central Committee is headed by Raila himself, followed by his two deputies – Mombasa Governor Hassan Joho and his Kakamega counterpart Wycliffe Oparanya.??
Also in the committee are national chairman John Mbadi, secretary general Ababu Namwamba, national treasurer Timothy Bosire and national organising secretary Abdikadir Aden.??
The others are secretary for women's affairs Beth Syengo, secretary for youth affairs Rashid Mohammed and secretaries for parliamentary affairs Janet Ong'era and Thomas Mwadeghu.? ?Last month, Raila launched interactive digital campaign platforms, including a personal website and mobile phone SMS, as part of the groundwork for what is expected to be a do-or-die battle for the Presidency.
– the-star.co.ke