Ruto Hague case in AU Summit Main agenda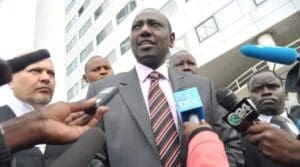 NAIROBI, Kenya, Jun 12 – Deputy President William Ruto's case before the International Criminal Court (ICC) will form part of African Union Heads of State Summit agenda on Sunday.
The Kenyan Government will lobby the AU to take a common position calling for the termination of the crimes against humanity case facing him and journalist Joshua arap Sang.
This follows an admission by ICC Prosecutor Fatou Bensouda that she has insufficient evidence to support the charges against Ruto and Sang.
She has therefore applied to have the, "prior recorded statements," of six of her witnesses admitted into evidence using Rule 68 of the Rule of Evidence and Procedure which provides for the statements to be used where the witness who gave the testimony is absent and cannot be found, where the witness is dead or where the witness has been influenced into not giving the testimony.
Five of the witnesses, she claims, were influenced into recanting their original statements on the stand and one simply refused to testify.
"As a result, the prosecution has been deprived of a significant portion of the incriminating evidence that it intended to present to Trial Chamber V (a) in support of its charges," she stated in her application to the court.
But the defence counsel and the Kenyan Government through Attorney General Githu Muigai have opposed the application arguing that the amendment to the rule was not intended to apply, "retrospectively."
"The 12th amended Rule 68 subject to the condition that it would not be applied retrospectively and with a clear undertaking given to the AU Members of the ASP that it would not be applied to the Kenya situation," Kenya's briefing notes in readiness for the AU Summit read.
Kenya is therefore going to push for the speedy ratification of the Malabo Protocol on the proposed African Court of Justice and Human Rights arguing that ICC has demonstrated a clear bias against the Continent and in the spirit of sovereignty, the continent should, "create continental jurisdiction against atrocity crimes."
In January when the AU Heads of State last met, President Uhuru Kenyatta committed a million US dollars to the establishment of the court.
Other matters to be discussed during the summit is the unrest in Burundi and xenophobic attacks in South Africa.