Top ODM MP quits party over 'poor' leadership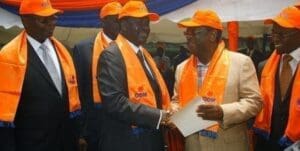 Nakuru West Member of Parliament Samuel Arama has decamped from the Orange Democratic Movement (ODM).
Mr Arama announced that he will be seeking re-election on a different party ticket come 2017.
Arama – who was speaking in his constituency – accused the ODM party of lacking leadership and discipline.
He further pointed out that his relationship with the party has gotten worse and he is not comfortable.
Arama added that he has a right to decide on which party to use since politicians often change parties during elections when they seek votes from the electorate that best represents them.
The MP at the same time vowed to work with the Jubilee government saying that his constituents have benefited from various development projects courtesy of his good working relations with the Jubilee administration.
The ODM legislator though has to contend with the Political Parties Act of 2011 that states that any political member who in any way or manner, publicly advocates for the formation of another political party; or  promotes the ideology, interests or policies of another political party; shall, notwithstanding the  provisions of subsection (1) or the provisions of any other written law, be deemed to have resigned from the previous political party.
-citizentv.co.ke