2,000 GSU, 800 Marines to guard Obama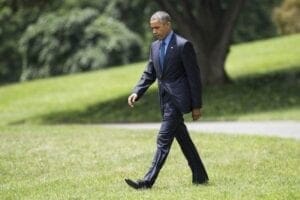 THE US is flying in 800 officers to handle President Barack Obama's security during his visit to Kenya at the end of the month, the Star has learnt.
According to sources, top Kenyan security officers and a US team met at Vigilance House on Wednesday to discuss details of the trip.
The Kenyan team included top Nairobi police and  General Service Unit commanders. Kenya will provide a team of 2,000 security officers during the trip, with a contingent from the Recce Squad working directly with the Americans.
During the meeting, the US team is said to have insisted on the use of the Recce Squad because "the Americans have given the officers special training."
Yesterday, the Recce Squad members who will work with the US Secret Service were briefed on the route plan and evacuation plans. It was also disclosed that there are eight American aircraft in Kenyan airports – some coming from the US and others from the US military base on Manda Bay on the Kenyan Coast. Two of the aircraft are US military anti-assault choppers, which will be used to provide air surveillance during the Obama visit.
Three Bell 412 EP military helicopters have been spotted at Wilson Airport, inside the Phoenix Aviation hangar. One source told the Star that there were also discussions about the American President making use of Marine One (the official US presidential helicopter) inside Kenya. This, the meeting agreed, will minimise the disruption that his huge motorcade is likely to cause if he travels by road all the time.
Yesterday, a cargo plane carrying armoured vehicles with diplomatic plates landed at the Jomo Kenyatta International Airport. According to airport sources, the vehicles are to boost the number of armoured vehicles currently used by the US embassy in Nairobi. Government sources also revealed that the US has over the last two weeks sent other vehicles to be used by Obama's team. The US has also shipped communication equipment, with the core vehicles, including an ambulance, expected in Nairobi mid-next week, according to sources. Obama is scheduled to be in the country on the weekend of July 25 to 26 for the Sixth Global Entrepreneurship Summit to be held at the United Nations Complex in Gigiri.
He and President Kenyatta are the GES co-hosts. The US President is scheduled to be in Ethiopia on July 26, according to information released by the White House two weeks ago.
It remains unclear clear when he will address the Summit alongside President Kenyatta as the programme circulated by the organisers so far does is silent on the time. However, a source among the organisers has said that the two President may address the Summit between 10am and midday on July 25. In the Summit's schedule, this slot has been indicated as "Opening Plenary". Obama will also hold talks with Kenyatta at State House, Nairobi, on Saturday morning before they head for the Summit in Gigiri.,
– the-star.co.ke