Atwoli accuses Uhuru of sidelining COTU during Obama trip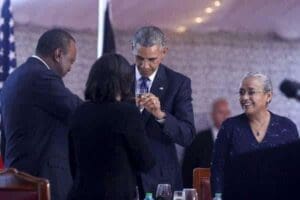 Central Organisation of Trade Unions (COTU) is crying foul over President Barack Obama's recent visit to Kenya.
In a paid newspaper advertisement, COTU through its Secretary General Francis Atwoli pointed finger at President Uhuru Kenyatta for excluding the trade union in key functions attended by the US President.
Atwoli for instance could not understand why President Uhuru did not invite COTU at State banquet on Saturday in which he paid glowing tribute to the late Tom Mboya, a Labour leader who played an instrumental role in securing a number of Kenyans including Barack Obama Senior opportunities to study in the USA.
"As a Kenyan who leads the labour movement and speaks for East Africa under the banner of the East African Trade Union Confederation, for Africa as the President of the Organization of African Trade Union Unity, and more importantly leads the organization that to date still has in library the Obama Senior files; the ourganisers should have seen the ambiguity in the whole address in inviting me at the banquet," Atwoli said.
"We are not indeed complaining but as a matter of international concern and knowing very well that American workers supported the Democratic Party that sponsored Obama to White House and Labour Security comes from workers, how could organisers omit COTU while remembered to pay special tribute to late Mboya."
In his lecture, Atwoli urged the government to recorgnise living heroes and move away from the norm of celebrating heroes when dead or languishing in abject poverty.
-standardmedia.co.ke