ITUMBI: WAITER SNUBBED ME FOR A MZUNGU PATRON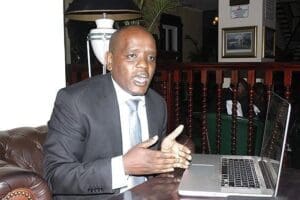 The Director of Digital Media in the Office of the President Mr Dennis Itumbi has sensationally claimed that he was racially discriminated at a local resort.
Mr Itumbi made the claim on his Facebook, a post that elicited varied reactions from his friends and followers on social media.
Mr Itumbi says that he alongside a friend, placed an order for drinks at the said resort, a request that was met by a response to the effect that the drinks were not available.
According to Mr Itumbi, the same brand of drinks were later served to a white man by the same waiter moments later.
"I always thought this Racism/Favouritism was abit exaggerated, but minutes ago I witnessed this at the @Emrald_Flamingo Beach Resort," Itumbi wrote Facebook.
"We order soda and red bull with my long time buddy DJ @Pierre Makena and the waiter tells us it is out… that of course we accept.
"But us we sit at the counter immediately after the statement a mzungu comes and order for red bull and immediately after, red bull is found, I am literally shocked," he concluded.
-nairobinews.co.ke