Kenyatta: What I will tell Obama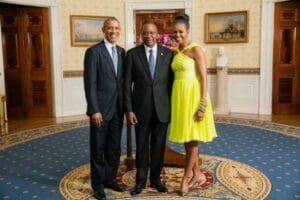 PRESIDENT Uhuru Kenyatta will tell his US counterpart Barack Obama of the progress the country has made since he took office.
In particular, the President will brief Obama on efforts to deepen democracy in Kenya, the antiterrorism war and the fight against corruption, which Obama has said is slowing Kenya's growth.
The President will also take the opportunity to thank Obama for honouring Kenyans with his visit over and above appealing to him to encourage American investors to bring their money to Kenya.
Kenyatta will address the nation tomorrow in a live broadcast from State House, Nairobi, where he will list the agenda for the meeting between him and Obama.
Obama, who has Kenyan roots, arrives on Friday for a three-day visit. Apart from meeting President Kenyatta, the US leader will also cohost the Sixth Global Entrepreneurship Summit with him and address Kenyans at Kasarani on Sunday.
"Kenya warmly welcomes President Obama on this historic visit and for the Sixth Global Entrepreneurship Summit. I look forward to engaging him on all these matters and to raising the friendship between our nations to new levels of co-operation and goodwill," said the President in an opinion article published in the Sunday Nation yesterday.
The head of state said Kenya shared with America "a deep and relentless quest for democracy, equality of opportunity, the freedom of association and openness to the world".
He went on: "Today, Kenya stands on the cusp of great prosperity. We are a deepening democracy that embraces pluralism at a time when the world faces the grave challenge of tyranny and terror.
"Following many years of neglect towards one another and the conflict of 2007/8, we have shown ourselves, and the world, that we can positively transform ourselves constitutionally, socially and politically. Kenya is travelling along an arc of justice, pulled forward by the immense promise of equality, freedom and prosperity that our people have so much desired."
Yesterday State House spokesman Manoah Esipisu confirmed President Obama will address Kenyans on Sunday.
"Many of you have also asked about reports that President Obama will make a speech at the Safaricom Arena, Moi International Sports Centre. The US Embassy has confirmed that this fact remains the case and a Sunday speech is penciled in. But there are no further details at this stage," Esipisu said.
On Saturday, presidents Obama and Kenyatta will co-host the Sixth Global Entrepreneurship Summit at the United Nations Complex, Gigiri.
On the afternoon of the same day, presidents Uhuru and Obama will hold bilateral talks at State House, Nairobi, and later address a joint press conference.
Tomorrow's address to the nation will include a press conference at State House.
Esipisu said other details of the Obama itinerary, including other places he might visit, are still guarded, and US Ambassador Robert Godec and Foreign Affairs Cabinet Secretary Amina Mohammed will address them in the course of this week.
Whether Obama will visit his ancestral home in Kogelo, Siaya county, or attend an exhibition which has been planned to take place at the Kenyatta International Convention Centre remains unclear.
Esipisu said preparations to host Obama are being finalized and thousands of visitors are expected to jet into the country in the course of the week.
He urged Kenyans to shun "political marketeers", who are out to spoil for Kenya during the Obama visit.
"Given this delivery momentum, the government would want to urge Kenyans to shun political marketeers powered by negative energy. I invite all Kenyans to celebrate our country and treat the Afro-pessimists who see nothing positive about Kenya with contempt," he concluded.
– the-star.co.ke