Moses Kuria loses bid to gag media in panga remarks case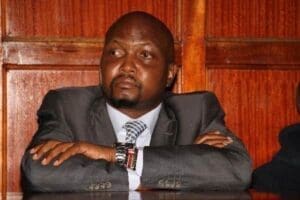 A court has dismissed Gatundu South MP Moses Kuria's application to bar the media from covering his incitement to violence case.
The media has the constitutional right to cover any court proceedings, principal magistrate Joyce Gandani said in a ruling on Monday.
Gandani added that the MP has not produced any evidence to warrant his request.
Kuria's lawyer filed the application to lock out the media last Thursday saying his client was being "tried and convicted by the press".
The MP appeared in court for the determination of a Sh2 million bail for a previous incitement case, after a controversial video surfaced, provoking further claims against him.
In the video, Kuria is shown allegedly telling panga-wielding youth to defend the National Youth Service and its projects.
Kuria, who appeared at the CID headquarters last week, said his remarks were taken out of context and faulted the media for misinterpreting his apology.
Last Tuesday night, he walked out of an interview on Citizen TV, after the video clip was played.
He denied making inciting statements and claimed the video was a result of "mischievous editing" as the original clip "was 45 minutes long".
Kuria challenged the host, Hussein Mohammed to play the whole clip, but walked out when the "edited" video was aired.
He said the remarks were made on June 26 and it was suspicious that the video "emerged weeks later".
The case will be heard July 31.
– the-star.co.ke