'My life my choice', Martha Karua says over Cord prospects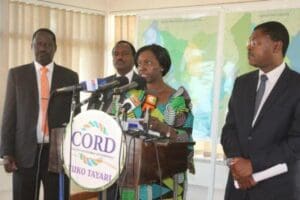 Narc Kenya leader Martha Karua, who has been spotted with Cord leaders on several occasions, has said she can join any party of choice.
She sparked discussions last week, when she said she would never join Jubilee, and called for a stronger, joint opposition.
"My life, my choice," she wrote on Twitter on Monday, when a follower asked her to keep off Cord unless she planned to retire with "losers".
Karua was with leaders of the Coalition for Reforms and Democracy when they were preparing to welcome US President Barack Obama last Thursday.
Their meeting with the US President, they said, was an opportunity for joint talks for the mutual benefit of Kenya and the United States.
Following the meeting on Sunday, when Obama rebuked an unnamed opposition leader for hypocrisy, they jointly issued a statement saying they respect Obama's opinion but that he said nothing new.
During a press briefing at Capitol Hill on Monday, Karua, Cord leader Raila Odinga, Wiper party leader Kalonzo Musyoka and Bungoma Senator Moses Wetang'ula denied that there was any tongue-lashing.
They said the meeting with Obama should "not be reduced to single comment" as it was "cordial and fruitful".
Sources within Cord told the Star something is in the offing for Karua and that two parties might join the coalition.
In a TV interview last Wednesday, Karua said Jubilee would never, "under any circumstances", be her party of choice.
She said she will not work in government as she wants to keep its leaders on their toes so they can deliver on their campaign promises.
"I support the government as a private citizen but I do not share in the ideas of Jubilee. I also do not want to defect from Narc Kenya," she said.
"Why do Kenyans think everybody must work for government? Narc Kenya is not a lone-ranger party. Some of our ideas have been used by our opponents and have succeeded."
She said Narc Kenya is ready to work with others in the opposition, which she said constitutes all those who did not get into government.
– the-star.co.ke