PHOTOS:Obama's Impersonator Brings Nairobi To a Standstill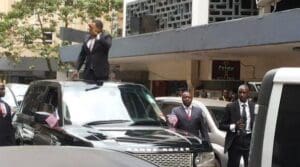 Obama is coming this week and the fever has started. Yesterday, the US Marines displayed their might and power by doing rounds in the city in some weird looking choppers, before landing them for about 10 minutes at Kenyatta University.
In the CBD, a guy decided to impersonate the US president, and it's impressive the crowd he pulled. Just imagine how many people would turn up if it were the real guy.
Here are some pics.
Photos courtesy
– nairobiwire.com