Kenyan Diaspora seeks change over citizenship law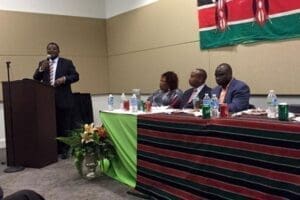 Kenyans in the diaspora intend to file a constitutional petition to repeal sections of the Constitution that bar Kenyans with dual citizenship from holding State offices.
The Kenya Movement for Democracy and Justice (KMDJ) argued that Article 78(2) of the Kenya Constitution was flawed and unfavourable to diaspora Kenyans and their children.
The KMDJ on Monday said this was because the law denies Kenyans with dual citizenship the chance to serve their country as elected or state officers.
"We believe in due process of the law and as a result we have instructed our lawyer, Gitobu Imanyara, and his team to take up (the) diaspora petition to the constitutional court immediately seeking to amend the clause as a matter of urgency," said the lobby, which is based in the United Kingdom.
Article 78 (2) states that a state officer or a member of the defence forces shall not hold dual citizenship.
But the organisation argued that the clause curtails the many skills and wide experience that Kenyans in the diaspora and their children have acquired that can be useful for the development and progress of the country.
The group said they would reach out for support to Parliament, the government, civil societies and the Opposition in their agenda of repealing the clause.
"We welcome like-minded political parties for negotiations in order to evaluate their political ideals so that we can form an alliance. Parties that the diaspora could use as a political vehicle to vie for elective positions in their respective counties," they said.
Their intended petition is, however, not be the first trying to repeal the provision that bars dual citizens from elective position.
In January 2013, Justice David Majanja dismissed a petition that sought similar declarations, ruling that dual citizens were not eligible to seek elective posts.
According to Justice Majanja, the provision in Article 78 of the Constitution or any part of the Constitution cannot be challenged before any court.
The case was filed by Bishop Donald Kisaka Mwawasi, who was an aspirant for Taita-Taveta senatorial seat.
Bishop Mwawasi is a Kenyan citizen by birth but acquired US citizenship in July 2012. His contention was that the provision bars only the president and his deputy but not any other elective post.
-nation.co.ke