Raila keeps all guessing on Uhuru 'List of Shame'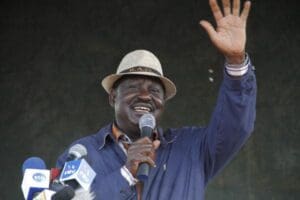 Opposition leader Raila Odinga kept Kenyans guessing the identity of prominent personalities whose names he claimed were 'edited out' of the anti-graft agency's 'list of shame' that President Uhuru handed to Parliament, paving way for high-profile investigations and prosecutions.
Though the news conference Raila was to address yesterday was postponed to today, sources familiar with the Opposition leader's latest move told The Standard he would decide whether to hold it in the course of the day. However, later, an aide of the Orange leader reported that he had decided to move the news conference by a day.
However in an interview with NTV on Sunday night, Raila had thrown hints on who could be in the list when he drew national attention to the fact that in some parts of the list, actual names had been substituted with references to 'senior officials'. He gave the example of the Independent Electoral and Boundaries Commission.
At the same time, Raila was insistent the anti-graft body would be crippled if the President goes ahead to sign into law, rather than return to Parliament, the bill that gave the Executive a hand in the naming of new commissioners while at the same time sending home the agency's Chief Executive and his deputy.
"If the President signs the bill that would spell death for Ethics and Anti-Corruption Commission ( EACC)… that is a serious decision that would require wide consultation…," said Raila.
EACC prepared the brief to the President on whose basis investigations into 175 cases have been ongoing but the Coalition for Reforms and Democracy (CORD) leader claimed the list was doctored and what was made public was not the entire list.
Raila is expected to hold the press conference this morning to name persons whose names were allegedly edited from the list that embattled EACC CEO Halakhe Waqo presented to the President, who in turn annexed it to his report to Parliament during the State of the Nation address on March 28.
Speaking on Sunday night, Raila questioned President Kenyatta's commitment to the war on corruption, claiming some of the corrupt people were in government. "The so-called war on corruption was started by the President but it appears it is public relations and witch-hunt in certain respects. I am saying so because in that list, there are cases that are listed but names of individuals who are being investigated are removed."
-standardmedia.co.ke