Steer clear of gay agenda on Kenya tour, leaders tell Obama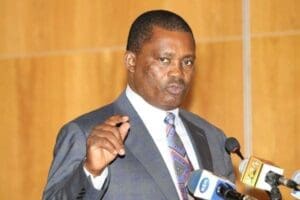 National Assembly Speaker Justin Muturi and four other lawmakers have cautioned US President Barrack Obama against asking Kenya to embrace same-sex marriages.
Mr Muturi, Embu Senator Lenny Kivuti, Embu Woman Representative Rose Mitaru, MPs Charles Njagagua (Mbeere North) and Cecily Mbarire (Runyenjes) and Embu County Assembly Speaker Kariuki Mate on Monday said gay unions were against African culture and would not be entertained in Kenya.
According to the Penal Code, Mr Muturi said, sodomy is a criminal offence, and urged the Church to campaign against same-sex marriages.
"Liberal thoughts are being entertained in some countries under the guise of human rights. We must be vigilant and guard against it (gay marriages). We must lead an upright society and not allow obnoxious behaviour as we have a responsibility to protect our children," he told the faithful at St Peter's ACK Church at a fundraiser for the construction of the Mbeere Diocese cathedral.
OBAMA WARNED
He said he had at one time told off a group of British MPs who wanted to discuss the issue.
Mr Muturi, however, said he was not speaking on behalf of the National Assembly but expressing his personal views on the topic after the US legalised same-sex marriages.
The Speaker said he would admit any motion in the National Assembly seeking legalisation of gay unions.
But Mr Njagagua warned that President Obama would be ejected from the House if he lectured MPs on the topic.
Ms Mitaru, who is an ordained Cannon of the Anglican Church of Kenya, said allowing gay marriages would open a "floodgates of evil synonymous with the biblical Sodom and Gomorra".
REJECT FOREIGN AID
She urged Mr Obama to exercise restraint and address only issues of benefit to the country such as the state of the economy and terrorism.
Ms Mbarire urged the government to reject any aid if it was tied to legalising same-sex marriages.
"The Constitution is against same-sex marriage and nothing should change (when Obama comes). We are ready to decline any foreign aid if it is tied to gay marriages," she said.
Mr Kivuti said he would boycott welcoming Mr Obama if he chooses to include gay marriage in his topics for discussion.
The leaders' call came as anti-gay lobbyists held a protest march in Nairobi and warned President Obama against pushing the gay agenda during his visit.
The group applauded Deputy President William Ruto, who on Sunday vowed that the country would not allow homosexuality.
ANTI-GAY SLOGANS
Led by Evangelical Alliance of Kenya chairman Bishop Mark Kariuki, Kiharu MP Irungu Kang'ata and members of the Kenya Christian Professionals Forum, the lobbyists asked Mr Obama to keep off the gay agenda.
Protesters chanted anti-gay slogans and condemned the Supreme Court for allowing the registration of a gay rights organisation.
They presented a petition to Chief Justice Willy Mutunga protesting the judgment and later marched to Mr Ruto's office, where they also presented a copy of the document.
"Gay practice is against our Constitution and also comes with diseases like Aids and herpes that affect gays more than heterosexuals," said Mr Kang'ata.
Mr Obama is set to visit Kenya at the end of July to open the Global Entrepreneurship Summit.
-nation.co.ke