Uhuru gives MPs four days to rid Central of illicit brews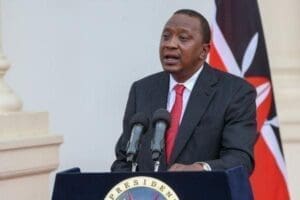 President Uhuru Kenyatta has revoked the licences of bars and other outlets selling second generation brews in Central region.  Uhuru further gave Members of Parliament from Central four days to rid the region of illicit brews.
The President said the fight against the illicit brews would begin in Central before being extended to the rest of the country because it is the area hardest hit by the vice.  Speaking during a meeting with MPs and Senators from the region at State House, Nairobi on Wednesday, Uhuru described the sale of the brews as "the business of death".  "We cannot allow this to continue", he said.  The campaign which is set to to begin on Friday will be spearheaded by General Service Unit  commandant Joel Kitili in collaboration with the MPs. The MPs are expected to report back to the President on their progress on Tuesday during a second meeting at State House.
"As elected leaders, you know where and who is behind these brews," Uhuru told the MPs adding that they can reach him on phone during the campaign.  "My phone will be open 24 hours this weekend. Call me when you need me,"the President said.
"Any officer who does not co-operate must be dismissed on the spot. We cannot just continue talking . Hakuna mambo ya kunongea tena ( time for mere talk is over)," Uhuru said.
He also directed National Youth Service director Nelson Githinji who was present to start a parallel campaign of rounding off drunk and addicted youths and put them in special centres for rehabilitation.
The President expressed his displeasure with the National Authority for the Campaign against Alcohol and Drug Abuse saying it  was not as effective and was not meeting its mandate as expected by Kenyans.
Uhuru said the problem of alcoholism is a national problem but Central Kenya is the most affected.  "They have become a major problem especially in our backyard where they have destroyed our children, families and many young workers. People are dying every day. Even where I come from in Gatundu, this is a major problem", said the President.  Uhuru said once region is rid of the liquor, a permanent committees will be constituted in respective sub-counties to sustain the campaign and for surveillance purposes.
– the-star.co.ke