Apostle Nganga forced to record statement on fatal crash
Apostle Nganga forced to record statement on fatal crash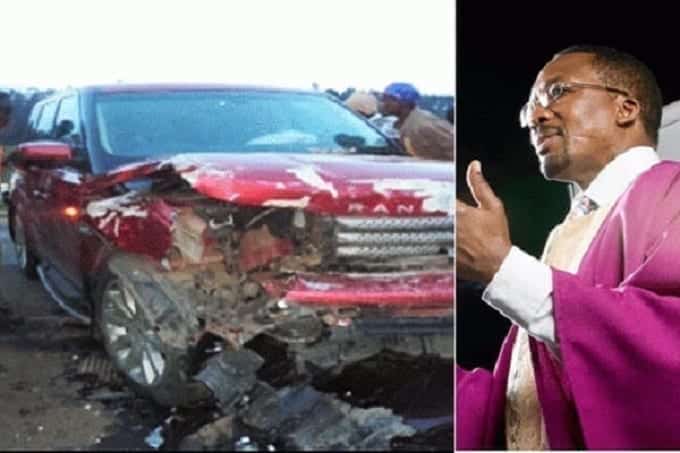 Police have recorded the statement of television evangelist James Maina Ng'ang'a over the fatal road crash in Limuru that left one person dead.
The preacher has kept mum on the matter despite multiple eyewitness naming him as the driver of the Range Rover car that was involved in the accident.
The eyewitness accounts claim the driver of the Ranger Rover was driving on the wrong side of the road.
Traffic Commandant Charlron Murithi has taken over investigation on the accident.
Among the things being probed is possible cover-up by police officers attached to Tigoni police station who handled the accident.
A range rover sport belonging to the pastor was on July 26 involved in a road accident along the Nakuru-Nairobi highway.
FLED THE SCENE
Eyewitness accounts were that Pastor Ng'ang'a who was driving the car was driving towards oncoming traffic forcing other motorists to pave way for him.
It is alleged that Pastor Ng'ang'a fled the scene of the accident. The owner of the car which Pastor Ng'ang'a's vehicle crashed into, identified as Martin Mbugua, survived the accident although his wife, Mercy Njeri, died.
Pastor Ng'ang'a was seen at the Tigoni Police Station the next day arranging for his car to be towed and a different version of the accident given to Inspector General of Police Joseph Boinnet.
Mr Boinnet later ordered for traffic officers who handled the matter to be investigated as media reports contradicted the information he was furnished with by the officers.
On Tuesday this week the investigations report was handed over to him with preliminary reports showing that police may have falsified records, tampered with evidence and ignored witness testimony.
Apostle Nganga forced to record statement on fatal crash