How brave student plunged into fire to save friend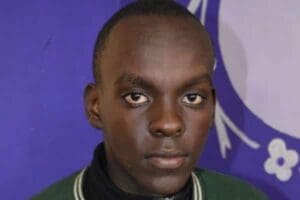 When everyone else feared, I plunged into fire and pulled out my burning classmate, says Form Two student.
At around 11pm on Sunday, George Njenga was asleep in one of the dormitories at Stephjoy Boys' Christian Boarding School in Limuru, Kiambu County, when he was awakened by screams and chaos.
Two dormitories at the school were on fire and the institution was clouded with black smoke.
The 15-year-old Form Two student jumped out of bed and joined his colleagues and neighbours, who had begun putting out the fire, which was spreading fast.
The door to one of the burning dormitories was still closed and students who were inside were struggling to force their way out, screaming.
"We broke the door and there was a stampede. The fire was so intense that we tried putting it out from a distance and all we could see was a huge flame that was razing the bedding," George told the Nation at Tigoni Sub-County Hospital, where he was being treated for chest pains.
Most of the students, he said, were suffocating as they could not get enough oxygen. While fighting the fire, he saw Zachary Njoroge, his classmate, who was stuck in the dormitory.
According to him, the 17- year-old boy was lying on the floor, screaming for help.
"With the fire so intense, we could only watch from a distance as he struggled to put out the flames that were fast consuming him.
"We did not know what to do to save him. No one was willing to rescue him due to the fear of getting burnt," he recalled.
Then he summoned courage. "I covered myself with a wet bed sheet and went for him. I managed to pull him out of the fire and we covered him with a wet bed sheet to put out the fire on his body, before giving him some First Aid.
"His condition was terrible and we were fearing we could lose him," George recounted. Luckily, an ambulance had already been called in and Zachary was rushed to the nearby Tigoni Sub-County Hospital and later transferred to the Kenyatta National Hospital.
Doctors said he had suffered 95 per cent burns and was in critical condition.
Seven students, including George, were admitted to the Tigoni hospital for chest pains, breathing difficulties and sight problems. They were treated and discharged.
But Ian Kamau, 16, and Edwin Mugo 15, who were George's classmates, did not make it.
Ian's mother, Jane Njeri, wailed uncontrollably after learning that her son's body was in one of the razed dormitories 10 hours after the incident.
She was too distraught to view the body even after blocking police from ferrying it to the City Mortuary before she could view it.
-nation.co.ke