IEBC decries poor diaspora voter registration in UK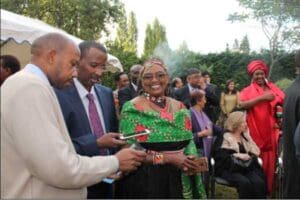 Out of 200,000 Kenyans living in the United Kingdom, only 8,889 have registered as voters with the Kenya High Commission.
The Independent Electoral and Boundaries Commission (IEBC) chairman Isaack Hassan revealed this during a meeting with diaspora voting stakeholders held in London on Friday.
Mr Hassan said despite a sense of frustration, the electoral body was still hopeful that more Kenyans will register with their respective missions around the world.
"We are trying our level best to make sure that we obey the ruling of the Supreme Court which directed that those in diaspora vote come 2017," he said.
"Your right to vote is guaranteed by the constitution and has been confirmed by the highest court in the land, so there is no doubt that you will cast your ballot," he added.
He however pleaded for time to formulate a diaspora voting policy which would streamline the exercise in different countries.
"We have received data from all the Kenyan diplomatic missions around the world and are due to present our draft policy to Parliament for deliberation when it re-opens sometime in August," he said.
Ms Esther Achieka, a Kenyan who lives in New Castle Upon Tyne called for hiring of bipartisan personnel to undertake the voting exercise.
"It is common knowledge that not all Kenyans think the officials working in those missions are beyond reproach," she said.
A participant who did not wish to be named told the Nation that most Kenyans in Britain did not register with the High Commission because they were concerned that their immigration status may be revealed to the Home Office against their wish.
"These are things that Kenyans talk about in hushed tones around here and the truth of the matter is that most of them are paranoid.
It seems the repeated verbal guarantees that their status will not be shared with the British government don't work. It is perhaps the high time IEBC thought of another strategy," she said.
Mr Hassan admitted that Kenyans around the world had been indifferent about the registration effort.
"We have set up a few portals in an attempt to map out the Kenyans in diaspora but I must admit that the response has been disappointing," he said.
The electoral body boss said any country which will have registered less than 500 Kenyan residents will be left out of the 2017 poll.
"We have to be realistic about these things," he said without elaborating.
Those present at the meeting included Mr Lazarus Amayo, the Kenyan High Commissioner to the United Kingdom and Janet Wainaina, the CEO of Face of Kenya, UK.
-nation.co.ke