I Miss Being In Parliament, Uhuru Kenyatta Tells MPs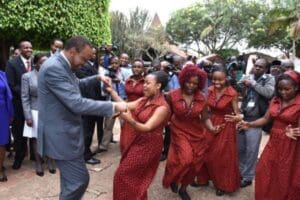 President Uhuru Kenyatta has made a confession about his life outside Parliament.
President Uhuru he missed the rewarding post but could not continue as the constitution could not allow him to be both president and MP.
"Allow me to confess that as I stand here today, I am a little nostalgic. Until quite recently, it was my honour and privilege to represent in Parliament constituents of Gatundu South," he said.
Uhuru, who served the constituency for ten years, was addressing legislators from across the continent during the official opening of the 46th Commonwealth Parliamentary Association Africa Region conference on Tuesday, August 11, 2015.
He said the years in parliament taught him a lot about public service and remains grateful for that experience.
On Commonwealth, President Uhuru faulted the for former colonial British Empire for not living up to the values cherished by its members.
"Some historians recently, falling under an old spell, have suggested that the empire was liberal: That it spread the values of liberty and equality under the law in lands that fell under its control. Those claims are hard to square with the actual experience of those who lived through colonial times," he stated.
He said colonialists were wrong for not giving Africans the right to determine their own futures and a say in their governments. 
However, he urged the MPs to now building on the achievements that came with liberation of Africa from colonial and imperial domination.
The president acknowledged that too many of Africans are yet to taste the fruits of independence despite the political freedom.
Uhuru advised African governments and legislators to shun sectarianism and accommodate all voices in order to promote liberty in the continent.
A conflict silenced is only a conflict postponed — not a conflict solved, he said.
The conference at Nairobi's Safari Park Hotel will end on Saturday August 15, 2015.
-tuko.co.ke