ICC sends Uhuru non-cooperation case back to trial chamber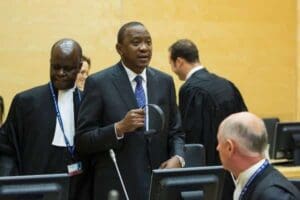 A panel of appeals judges at the ICC on Wednesday said trial judges would have to reconsider whether Kenya cooperated properly with prosecutors in the case of President Uhuru Kenyatta.
Prosecutors dropped charges of crimes against humanity against Uhuru in December, maintaining they were unable to build their case because of obstruction by Kenyan authorities.
Reading the appeal court decision, Presiding Judge Silvia Fernandez de Gurmendi said trial judges had failed to consider some aspects of prosecutors' non-cooperation complaint and ordered them to review the decision.
"The trial Chamber erred in its exercise by failing to address whether judicial measures had been exhausted," the ICC said.
But it said the Trial Chamber was not mistaken in not referring Kenya to the ASP, noting that the chamber has discretion, as a matter of law, to not automatically refer non-cooperation to UNSC or ASP.
The Appeals Chamber said an automatic referral to the Assembly of States Parties is not required even where there are factual findings of non-compliance.
It referred the matter to the ASP, the 123-member executive body that oversees the court, or the United Nations, to consider "appropriate measures.
The collapse of Uhuru's case before trial dealt another setback to the court's prosecutors, who have struggled to get suspects in the dock and have won just two cases since the ICC's establishment in July 2002.
Prosecutors have said Uhuru, the first sitting president to attend a court session, abused his powers to obstruct the investigation, especially after becoming head of state, but his lawyers denied this.
– the-star.co.ke