Memorial Service And Fundraiser For DJ John Chege In Anaheim CA
Memorial Service And Fundraiser For DJ John Chege In Anaheim CA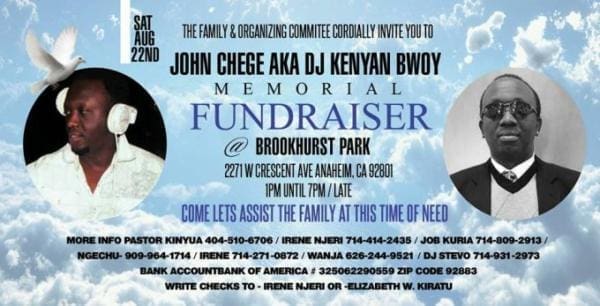 Dear friends, following the sudden death of John Chege (DJ Johnnie or Kenyan Boy ) Prayers and funeral arrangements are being held at the late John's house from 7:00pm. The home address is 22451 White Sage St, Corona 92883.
  There will be a fundraiser (Harambee) towards the burial on Saturday August 22nd, 2015 starting at 1:00pm.
The Venue for the Harambee is:   Brookhurst Community Park 2271 W Crescent Ave, Anaheim, CA  92801-5160,   A gofund account h as been opened,
www.gofundme.com/km23z2tc
and also a bank of America account 325062290559 in the name of Elizabeth Kiratu (wife) and Irene Kuria
Thank you for your  prayers and support.  Pauline
COME LETS ASSIST THE FAMILY AT THIS TIME OF NEED.
More info Pastor Kinyua
404-510-6706
Irene Njeri
714-414-2435
Job Kuria
714-809-2913
Ngechu-
909-964-1714
Irene
714-271-0872
Wanja
626-244-9521
Steven Mbugua
714-931-2973
Go fund me.click here
http://www.gofundme.com/km23z2tc
Bank account
Bank of America # 325062290559
Zip code 92883
Write checks to – Irene Njeri or -Elizabeth W. kiratu
Memorial Service And Fundraiser For DJ John Chege In Anaheim CA