Kalonzo and Ngilu to form new alliance for Ukambani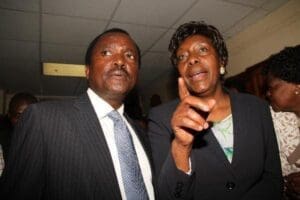 SUSPENDED Lands Cabinet Secretary Charity Ngilu is reportedly in talks with Cord co-principal Kalonzo Musyoka for a possible political alliance ahead of the 2017 polls.
The two leaders have met face-to-face at least twice in two months to deliberate on an elaborate political game plan that would see Ngilu dump the ruling Jubilee Alliance for the opposition.
The Star has established that the two former political rivals have agreed on a team of close confidants who are secretly drafting the terms of engagement before the pact is unveiled.
"It can be at Kalonzo's or Ngilu's home, or even at a hotel. The venue does not matter. They have met," an MP close to Kalonzo told the Star yesterday on condition of anonymity because he is not authorised to speak on behalf of the two.
The leaders have met and held wide discussions on how they can partner to help the people of Ukambani, where they hail from, the MP added.
Insiders say the ultimate plan is to have Ngilu's Narc party – now in a post-election coalition agreement with Jubilee – work closely with Kalonzo's Wiper to reduce antagonism in the Ukambani region ahead of the next polls.
The duo will then enter into a coalition agreement with other opposition parties to forge a strong outfit to challenge President Uhuru Kenyatta's 2017 re-election bid.
Ngilu has been at loggerheads with Kalonzo's leadership style for decades and has in the past accused the Cord co-principal of being a political failure with nothing to show for his 30 years in active politics.
Their new political scheme would therefore trigger a paradigm shift in Ukambani politics in the face of Machakos Governor Alfred Mutua's increasing clout.
"It won't be a miracle if Ngilu and Kalonzo work together. If that is what it takes to make up for the many years of rivalry, so be it. We will definitely have them forge unprecedented unity for the sake of the Ukambani region," an MP and close ally of Ngilu's told the Star.
This source confirmed to the Star that veteran politicians and elders from the Ukambani region are spearheading the bonding that culminated in the two one-on-one meetings between Kalonzo and Ngilu.
"There are respected elders from the region who are keen to broker the elusive unity of our leaders. I can't say more now, but more details will be communicated as and when the talks bear fruit," the MP added.
Ngilu was among five Cabinet Secretaries forced to step aside over the EACC 'List of Shame' tabled in Parliament by President Uhuru Kenyatta in March.
MPs close to Ngilu say she is currently concentrating on battling the case against her in court and is not keen to resume her duties at Ardhi House, even if she is cleared.
– the-star.co.ke