Kanu will challenge JAP in 2017, Salat tells William Ruto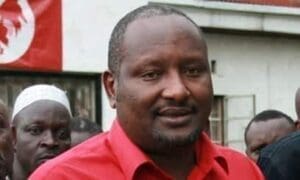 Kanu has moved to reaffirm its popularity among Kenyans following recent remarks by the Jubilee administration that the independence party is dead.
Kanu Secretary General Nick Salat said it was ironic for Deputy President William Ruto to say Kanu was dead while it was playing a big role in Parliament by supporting the Jubilee agenda in the House.
He said the DP, through his utterances, was in the process of killing the Jubilee coalition the way he did to the United Republican Party. Over the weekend, the DP advised his followers to join Jubilee Alliance Party (JAP) ahead of the 2017 presidential elections.
In the Senate, the party is represented by Gideon Moi (Baringo), John Lonyangapuo (West Pokot) and Zipporah Kittony (nominated). Mr Moi is also Kanu Chairman.
Salat said it was the President who approached the former ruling party to join the Jubilee government soon after the General Election. He said the DP is frustrated and fears losing hold of Rift Valley.
Mr Ruto, who was speaking in Aldai Constituency over the weekend, asked voters to ditch Kanu in favour of JAP. Mr Salat said: "In the Senate, Kanu is playing a great role for Jubilee and it is ironical for one of the coalition members to say the party, which made him is dead."
He reminded the DP that Kanu gave him his first job soon after leaving college where he served for the Youth For Kanu '92 (YK92) outfit as an official.
BRUISING BATTLE
"He (DP) is biting the same hand that fed him," he said.
He warned Ruto of a bruising battle in the coming General Election between the Jubilee Alliance Party (JAP), the political vehicle President Uhuru Kenyatta is expected to use in his bid to return to State House in 2017, and the former ruling party in the Rift Valley. He said the party respects the DP and asked him to do the same.
"On several occasions the DP has been heard saying people who are not ready to be led cannot lead. I now tell him people who disrespect others cannot be respected," he said.
He said 2017 will be a turning point for the DP who according to him, received verwhelming support due to his case at The Hague.
-standardmedia.co.ke