Kenya native makes best of US Air Force opportunities In Colorado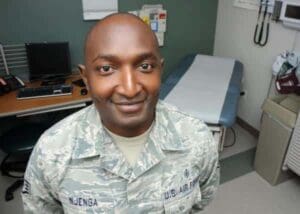 SCHRIEVER AIR FORCE BASE, Colo. (AFNS) –

Everyone gets a little homesick every now and then — especially when serving in the military. For most people, a quick phone call, a letter or trip home can help dissuade the feeling, but when home is 8,861 miles away, it's not that simple.
Staff Sgt. Johnson Njenga was born and raised in Kenya and hasn't seen his immediate family in two years. For a family as close-knit as his, this can be heartbreaking, but the opportunities the U.S. provides and his love for the Air Force keep him here, serving as the 21st Medical Squadron Family Health NCO in charge at Schriever Air Force Base.
"My family has always supported me and I've always supported them," Njenga said. "I try calling them at least once a week, on Saturdays because I have the time."
Njenga and his family didn't plan on him coming to live, work and go to school in America. It was a stroke of luck — Njenga literally won the lottery.
"In Kenya, we have this thing called the green card lottery," he said. "The green card lottery is a system where you go and put your name on a ballot and the U.S. picks about 20,000 people a year to come and work, go to school and live over here."
The chance of winning the U.S. Diversity Lottery and completing the green card process is less than 1 percent. According to the Department of State, during the year Njenga applied, more than 9.5-million qualified entries were received from around the world. Only 3,618 people were selected from Kenya.
"If I didn't take the chance right then, it would have gone to waste," Njenga said. "I told my parents I was going to go to school (in America), so they were happy."
Njenga travelled from Kenya to Georgia, where he stayed with his uncle. He enrolled in school and immediately began working, regularly pulling 12-hour shifts to pay the bills and support his family back in Kenya.
"Going to school and working long hours I always felt tired and that I couldn't concentrate, but there was no way I was going to (leave Kenya) and just go to school and not work, so the Air Force was the best thing for me to do," he said.
Njenga joined the Air Force with hopes of working in cybersecurity, but because he wasn't a U.S. citizen, that career was unattainable.
"You can only choose certain jobs as a green card holder, so communications was out of it," Njenga said. "Almost all the jobs I wanted, I couldn't get because I wasn't a citizen. Medical was the best choice."
His disappointment quickly subsided when his recruiter informed him of the Air Force's cross-training opportunities and the assistance it provides to obtain citizenship.
"I knew, after four years and I got my citizenship, I could retrain, so I wasn't too discouraged," Njenga said. "I just wanted to get into the Air Force first and after that I could figure everything else out later."
With citizenship, education and cross-training as priorities, Njenga buckled down, using the strong work ethic his parents instilled in him, and reached every goal he set for himself. Not only did he obtain his U.S. citizenship, he also earned two degrees — a bachelor's in strategic intelligence and a masters in information systems and was recently accepted into Officer Training School.
"Staff Sergeant Njenga is a role model and looked up to by many of our Airmen," said Tech. Sgt. Richard Keene, the 21st Medical Dental Squadron Family Health flight chief. "I remember when he came to me asking for help completing his package for commissioning. The first time I read it, I knew he would be selected."
Njenga said he received a large amount of support from his leadership and encouragement from a friend who was previously accepted into OTS.
"I was going to do enlisted for 20 years, but I think officer is a little bit better because you have more of a say and more of a leadership role; (my friend and leadership) all encouraged me," Njenga said.
Airmen like Njenga are important to the Air Force; they serve as role models, teachers, mentors and provide a diverse perspective to their units.
"Diversity is a must for the military, in my opinion the more diverse backgrounds we can have, especially in a medical setting, makes for more views for improving our day-to-day operations," Keene said. "I'm very thankful that I have Sergeant Njenga to bounce ideas off of from day to day."
Njenga's diverse outlook serves to help everyone he works with to broaden their horizons and become more culturally affluent.
"Being brought up in a different culture, you bring with you a different perspective and different ideas, you share different things and it makes the Air Force better," Njenga said.
Njenga's values and work ethic also inspire those around him.
"He leads with compassion and has no trouble getting people to get the job done," Keene said. "It is easy for his Airmen to want to work with and for him because he always puts his team before himself, and that is something Airmen look for in a leader."
Though Njenga will be leaving Schriever AFB in a few short months to attend OTS, his leadership here insists the impact he's made will last a lifetime — something they want to be sure his family in Kenya knows.
"Most people believe in working hard, whether it is your job or school … whatever you do just give your best and the rest will follow," Njenga said. "I've always had that instilled in me — respect others, work hard and goodness will follow. That's what I've tried to live by."
-af.mil