Kenyan man charged for drink-driving murder in Texas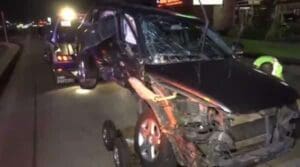 NAIROBI, Kenya, Aug 17 – A Kenyan man faces a murder charge in the United States for causing death by drink driving.
According to the Houston Chronicle, thirty-six year old Martin Kingori also faces court action for having his four-year-old daughter in the front passenger seat of the vehicle at the time Sunday's accident, without a seat belt and not in a car seat.
Kingori is charged with causing the death of a Hispanic male when he attempted to U-turn in the middle of the road at about 2am on Sunday.
The Hispanic male is reported to have attempted to swerve to avoid impact, unsuccessfully. He suffered fatal injuries when his airbag failed to deploy.
A breathalyser test taken at the scene revealed Kingori's alcohol levels to be two-times the legal limit.
Sergeant S. Wolverton of the Harris county's traffic enforcement division said it was a "miracle" his daughter survived the accident as the impact was on the front passenger side of the vehicle where his daughter was sitting.
The bond for Kingori's release was set at Sh5 million.
-capitalfm.co.ke