Kenyan universities top list of hackers in Africa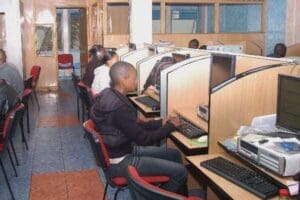 Kenyatta University and JKUAT are among Kenyan universities topping a list of hackers in Africa, says a report by Cyberoam.
The report placed Kenya among African countries leading in cyber attacks, after Egypt, Morocco and South Africa.
"Hacktivists" tamper with school systems to adjust grades and fee balances, says the report released at the weekend during the Education Cyber Security Symposium.
Cyberoam manager Philip Obondy said hacking has become a booming business in schools, especially towards the end of semester and during the graduation period.
"Cyber security is one of the areas that needs to be looked into with proper solutions, including identifying the minimum level of security for any learning institution," he said.
"In fact some teachers have become victims of their own students; you teach computer science and that student becomes more of a genius than you are."
Hellen Ngure from the Computer Learning Center said there is need for the Information ministry to implement tougher laws against cyber crime.
Other institutions vulnerable to hacking include banks, hospitals and government agencies.
In 2011, the Kenya Police website was hacked into for several hours, and its home page defaced with an abusive message.
– the-star.co.ke