Kenyatta University to install a computer assembly plant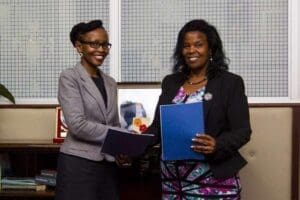 Kenyatta University has partnered with back-up internet generator firm BRCK positioning it for the government's digital literacy program.
Through a Memorandum of Understanding signed Friday, the two will set up a computer manufacturing and assembly plant hosted by KU. It will constantly design and develop innovative technology to meet the current market demand.
The deal is strategic, it comes at a time when government aims to provide digital content on a universal cloud system for delivery in 22, 000 schools. With a Sh17billion budget, laptops will be distributed to schools after the universal cloud centre has been set up.
KU Vice Chancellor Prof Olive Mugenda said the partnership establishes Kenya as a global hub for digital education. The centre will churn out digital learning programs, design curriculum and gadgets, it will also act as a digital knowledge hub.
"Both BRCK and KU are at the forefront of developing and rolling out cutting edge digital solutions that will transform the way education is delivered," said Prof Mugenda.
Deputy President William Ruto last month said that Jomo Kenyatta University of Agriculture and Technology (JKUAT) and Moi University will assemble laptops for the digital learning program.
The universities have till January next year to churn out 600, 000 laptops for lower primary pupils.
JKUAT aims to assemble 1, 500 laptops daily from its local assembly plant. The National Treasury exempted excise duty on imported computer parts, making it easier to import in bulk and assemble locally.
BRCK Board member Juliana Rotich said, "digital technology is one of the tools that will provide a leg-up to this new mode of learning." BRCK has a unique technology that keeps the internet on in the absence of power.
Nairobi University has proved itself as a digital learning hub, with a digital research hub that incubates start-ups and great ideas. Strathmore through the iLab Africa has technical knowledge on cloud computing.
-nation.co.ke