KIDERO, ALAI BAD BLOOD REVEALS UGLY SIDE OF EXTORTION BY TWITTER BIGWIGS
KIDERO, ALAI BAD BLOOD REVEALS UGLY SIDE OF EXTORTION BY TWITTER BIGWIGS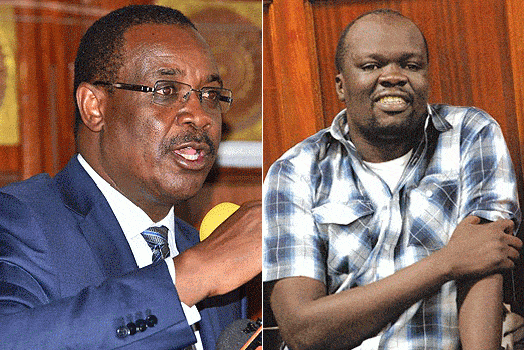 A public spat between Nairobi Governor Evans Kidero and blogger Robert Alai has revealed the ugly face of influence peddling by social media bigwigs in Nairobi.
Embarrassing details have emerged how the controversial blogger has routinely been asking for financial favours from the governor in exchange for spearheading public relations campaigns on his behalf on social media.
Mr Alai has 239, 000 followers on Twitter and owns the whistle-blowing website Kahawa Tungu.
The latest of episode of such extortion happened last week when Mr Alai asked the governor to sponsor his travel and stay in Dar es Salaam for the Cecafa Kagame Cup tournament. Kenyan football champions Gor Mahia participated in the tournament.
SPONSORED TRIP
According to one of governor Kidero's handler who spoke to Nairobi News, Mr Alai had called the governor asking to be sponsored for the trip to Tanzania.
When the governor turned down the request, our source says the blogger started texting Mr Kidero, accusing him of not helping Gor Mahia.
The source stated that Mr Kidero has been supporting the team, and that club's head coach Frank Nuttal lives free of charge in an apartment owned by the governor located on State House Crescent.
The drama between the blogger and the governor burst open on Tuesday when a SMS thread between Mr Alai's and governor Kidero was leaked on social media.
The SMS thread was leaked by musician and Radio Jambo presenter Gidi Gidi.
In the thread, Mr Alai accused the governor of intimidating him. In another message, he stated; "I helped on the Shebesh issue and you gave me 50k like my work is worth that.Tukiomba kazi hauleti. Listen to people Governor."
PROPAGANDA
Soon after the thread was leaked, Mr Alai took to Facebook and stated; "Kidero can sell every one eyed pig (like Gidi) all the propaganda he wants. But by the end of the day he needs to own up and answer key questions."
On Sunday Mr Alai announced through Facebook that; "Kidero sent me thugs two weeks ago and now is threatening me through SMS. Nairobi County is not your private property Governor. You either listen to critics or resign and be the governor of your house."
Mr Alai went on to accuse the Governor of intimidating him stating, "Every time you criticize Kidero, he has to intimidate you. He is now sending me intimidating SMS because I criticized him for never helping Gor…"
The blogger  was part of the delegation that flew to Dar es Salaam in the same plane with Gatundu MP Moses Kuria. Photos of him beside Mr Kuria were shared on social media, as users commented on the new found friendship between the two despite being sworn enemies before.
Mr Alai went on to praise Kuria and the entire Jubilee administration through a Facebook post stating; "President Uhuru contributed tickets worth Ksh 1.5 million. Kuria brought Ksh 200,000 and another 500,000 from DP Ruto."
-nairobinews.co.ke
KIDERO, ALAI BAD BLOOD REVEALS UGLY SIDE OF EXTORTION BY TWITTER BIGWIGS