Man sues pastor Ng'ang'a church over Sh2 million deposit for prayers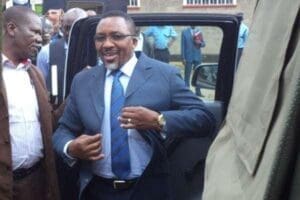 Pastor James Ng'ang'a is enmeshed in another battle after a member of his congregation sued to recover Sh2 million.
Ng'ang'a has been in the news for allegedly causing a fatal accident in which a woman died at Manguo, Kiambu county, on July 26. He denies involvement.
He has been charged with causing death by dangerous driving, failing to report an accident, giving false information to police and conspiracy to defeat justice.
Yesterday, businessman Geoffrey Ndung'u filed a case at the High Court in Nairobi, saying he "subconsciously" deposited Sh2 million into Neno Evangelism Centre's bank account after Ng'ang'a prayed for him.
Ndung'u has secured court orders freezing the accounts of the church in Equity and Co-operative banks, pending the outcome of the case.
In court documents, he says he was suffering from mental illness when he withdrew the money from his personal account at Equity Bank, OTC branch, Nairobi, on April 5, 2012, and deposited the sum into the church's account.
The trader says he approached Ng'ang'a for spiritual healing and deliverance and does not understand how he ended up giving him the money.
Ng'ang'a says, however, he owes Ndung'u nothing and if he indeed gave the money after prayers "then it was a gift to my church".
The televangelist says the suit does not specify any course of action and it should be struck out.
"If such money was deposited in the church's account, it was deposited without coercion, inducement and was an absolute gift," Ng'ang'a says.
Ndung'u denies the money was a gift to the church.
He says he approached Ng'ang'a, seeking for a refund but the pastor turned him away.
Ndng'u said it was during one of his sessions with Ng'ang'a that he left the pastors's church at the junction of Halle Selassie and Uhuru Highway roundabout and went to withdraw the money.
The case will be mentioned on September 22.
– the-star.co.ke