Raila Accuses His Lieutenants Of Sleeping With The Enemy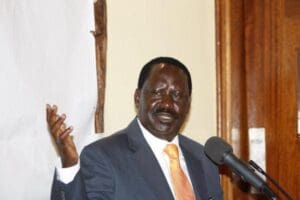 Raila Odinga, Orange Democratic Movement (ODM) leader has admitted that the opposition has failed in its mandate as an alternate government.
Raila accused ODM, the main opposition party, of being shy and oftenly speaking at cross-purpose thus making it hard for the party to keep the government in check.
"The firepower and the will to fight jubilee (the coalition in government) is clearly missing," lamented Raila, as quoted by The Star Newspaper.
The ODM leader was peaking during a retreat of ODM Governors, Deputy Governors, Senetors and Members of Parliament in Maanzoni lodge on Monday, August 17, 2015.
He expressed frustration that his party has lost its image in the face of Kenyans as a result of the weak manner ODM is exercising its opposition mandate.
In his lecture to his lieutenants in the opposition, Raila also warded into the controversial debate that majority of opposition politicians have been compromised to cripple it from within.
ODM has been marred with claims that some of its members dine with the enemy (Jubilee in this case)at night thus making it difficult to check the government of the day.
Raila said that ODM has failed Kenyans by trying to look good in the eyes of Uhuruto-led government hence things must change.
"We must make it clear in the minds of Kenyans that the gap between Jubilee and us is like day and darkness, that there is no contest in 2017," he said.

-tuko.co.ke