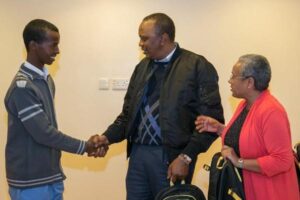 PRESIDENT Uhuru Kenyatta and opposition rival Raila Odinga are flexing political muscles to tip the scales in the presidential votes in neighbouring Tanzania and Uganda.
The new Raila-Uhuru political tussle playing out two years before Kenya's 2017 polls signals what is shaping up as a do-or-die rematch between the sons of the country's founding fathers.
But their strategising for 2017 extends to Kenya's neighbors.
Tanzania heads to the polls in two months on October 25, while Ugandans will vote on February 12, 2016.
Both Uhuru and Raila believe the winner in the two East African countries will influence the outcome of Kenya's presidential election.
"We are almost certain that (John) Magufuli will be the next Tanzanian president. We are also working to ensure that (President Yoweri) Museveni is floored by the opposition in Uganda," a close Raila ally told the Star.
During Kenya's disputed 2007 presidential elections, ODM accused Museveni, now 70, of assisting then-President Mwai Kibaki retain power and deploying Ugandan forces.
There are claims extra ballot papers were sneaked in from Zurich, Switzerland, via Dar es Salaam, by the Jubilee machine allegedly to rig the 2013 polls.
Today, President Uhuru leaves for a three-day state visit to Uganda, culminating in an address to the Ugandan Parliament on Monday.
The move is a vote of confidence in Museveni, who for the first time faces a ruthless onslaught from a united opposition led by Amama Mbabazi and Kizza Besigye.
"Our Rules of Procedure provide for visiting dignitaries, who include presidents, to address the House. It is in that regard the Kenyan President will address us on Monday," the Ugandan Parliament website states.
There are claims Uhuru plans to send emissaries to Tanzania to court Magufuli, a longtime Raila ally, who has been nominated as the ruling CCM party's flag-bearer.
Though Magufuli has a head start, he faces fierce competition from Tanzanian former Prime Minister Edward Lowassa, who is backed by four main opposition parties.
After Magufuli's nomination on July 12, Raila has visited Dar es Salaam twice, both times meeting him and President Jakaya Kikwete.
Kikwete's relationship with Uhuru has nosedived, evidenced by the recent squabble over the decision in Dar to cut Kenya Airways flights to Tanzania by as much as 60 per cent.
"Dr Magufuli is a Pan-Africanist and a believer in EAC integration… with his guidance, we hope to see the integration process pick up pace," Raila said.
Early this year, Magufuli represented Kikwete at the funeral of Raila's eldest son, Fidel Odinga, and delivered a strong endorsement of the former Prime Minister.
He has supported Raila's two presidential bids, 2007 and in 2012.
The Cord brigade is expected to send an observer team to the October polls to monitor their credibility.
There are also reports Ugandan opposition leaders Amama Mbabazi and Kizza Besigye are reaching out to Raila for advice. Sources tell the Star a secret retreat could be in the offing.
The Raila-Museveni rivalry is not new.
At the peak of the 2007 presidential poll dispute and bloodletting, Museveni quickly sent congratulations to Kibaki and offered to mediate the dispute. Raila refused.
In 2010, leaked US diplomatic cables showed Museveni worried Raila was supporting his political opponents and building a secret regional Luo alliance.
– the-star.co.ke