Why CORD Is So Upset About Barack Obama's Visit

Why CORD Is So Upset About Barack Obama's Visit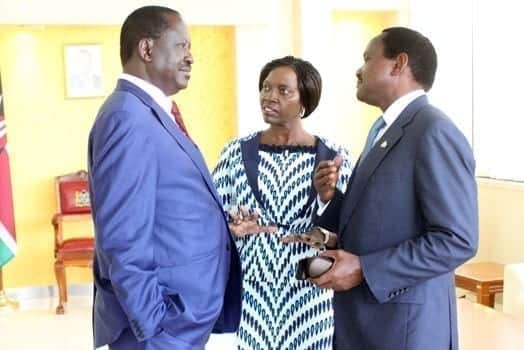 President Obama was in Kenya for only three days to attend the Sixth Global Entrepreneurship Summit that he co-hosted with President Kenyatta. But the truth is that this trip had very little to do with the GES Summit (though this is not to say that there are no benefits to Kenya from the meeting). Obama's trip to Kenya was more about international bilateral politics between Kenya and the US, continental and regional politics, and local Kenyan politics.
Internationally Obama's visit emphasised the importance America places on its relationship with Kenya. On the continent, the visit raised Kenya's profile amongst her peers. Regionally (within the East African Community) the visit made Kenya the first amongst equals on key issues especially as regards the civil war going on in South Sudan, the fight against terrorism and regional infrastructure. In addition Kenya held the world's attention for three days and basked in much-needed positive international socio-political attention … at least for three days.
However it is what Obama's trip means for Kenya's local politics that is of interest.
Let me first state that I believe that Obama's visit and the local political interpretations of what he did, what he said, and why, will not only shape Kenya's politics between now and the next general election, but it will also substantially determine the election narrative. Obama has especially left Cord politically wounded on several fronts.
First, one of Cord's main arguments against the Jubilee government has been that they are illegitimately in office. Cord has deliberately sustained the (false) narrative that Jubilee did not win the last election and are only in office because Cord 'decided' to honor a Supreme Court ruling. As I have said before, this very dangerous propaganda as far as Kenya's pursuit for national unity is concerned has been sustained since the last election for the sole intention of keeping Cord's strongholds united against Jubilee until 2017. It borrows heavily from the ODM script post-2007.
Unfortunately Obama not only accepted to be hosted by the man who 'stole' Raila Odinga's victory, he also went on to publicly state that as far as the world's only superpower is concerned Uhuru Kenyatta is legitimately in office! This has not only put to bed the often-repeated lie by the Cord on how Jubilee 'stole' the last elections, it has also dismantled Cord's main 2017 re-election strategy … which was to call on CORD supporters to come out in large numbers and 'confirm' the 2013 victory for Raila, in 2017.
Second, Obama told Kenyans (and the world) that Kenya's opposition has nothing to offer. This is why he met them at the tail end of his trip, after he had already done whatever brought him to Kenya, and once he was done with addressing the Kenyan public. It was quite clear he did not expect the opposition to add any value to his trip. This is why he dedicated only 30 minutes of the close to 72 hours he was in town to Cord. He was being polite. Clearly America does not believe Kenya's opposition can affect where Kenya is going in any way.
Obama's public (and rather mischievous) remarks about the hypocrisy of Kenya's opposition trying to report on their government to America were very deliberate. He was telling Kenyans that these guys cannot be trusted, they are wolves in sheepskins. That he chose to put down the opposition amongst the Kenyan civil society, most of whom are perceived to prefer Cord to Jubilee, was also quite strategic. It was a silent message to the CSOs: 'Change focus; figure out how to engage government; the Opposition is a non-issue in Kenya'.
Third, Obama burst the anti-corruption and insecurity propaganda bubble Cord has been using against Jubilee. First he publicly confirmed that America believes that Jubilee is genuine in its war against corruption unlike what Cord has been saying. Second he complimented the Kenyan government for its role in Somalia, again going against Cord's agitation for KDF to leave Somalia. He then offered to help Kenya scale-up its security capacity.
Finally Obama threw in a bonus for Jubilee. He spoke about the need for political leaders to change how they do politics; condemned dictatorship based on longevity in political systems, and openly and publicly told Kenyans and the world that the future of Africa is in the hands of young (rather than old) leaders.
Obama, a man Cord has 'owned' and presented as their 'cousin in America' came to town and publicly exposed Kenya's opposition for what they are: hypocrites. The best rebuttal from Cord was to claim that the President of the most powerful nation in the world today was misled by a third world government. Since even Cord's hardcore supporters do not believe this Kenyans should expect even more ridiculous statements from the opposition as they try wiggle out of the mess 'Cousin Barry' left them in.
Why CORD Is So Upset About Barack Obama's Visit