William Ruto tells off Rift Valley rivals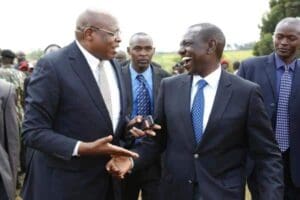 DEPUTY President William Ruto yesterday warned Rift Valley politicians who
keep obstructing the Jubilee government they would remain out in the political cold.
The
DP said he had visited most of the region and found only a few individuals were spreading falsehoods to advance their own interests.
"We will never heed the noise of a few people who are enemies of development. If they do not want to join us,
let them continue at their own peril," Ruto said in Kuresoi, Nakuru county.
Ruto said URP and TNA must merge to form a strong Jubilee Alliance Party.
"We  are
asking all political
parties under the JAP umbrellato fold their parties in 2017 and support   President Uhuru Kenyatta under one Jubilee Alliance Party," he said.
He singled out as a troublemaker area MP Zakayo Cheruiyot, who was absent.
"Your MP has been
making noises here and there, together with some guys from this region, instead
of bringing me a list of development projects to be done," the DP said.
Cheruiyot has teamed up with Kanu politicians to oppose Ruto. He is currently attending the Pan African Parliament in South AFrica.
Two months ago,
Cheruiyot hosted Baringo Senator Gideon Moi, who is Kanu chair, and Bomet Governor Isaac
Ruto in Olenguruone where he declared the DP has failed to unite the community and the region.
"It seems he is defeated
with his work and we want to tell him we know how to engineer politics. If he doesn't know how to solo the song, we will someone to replace him," the MP said at the time.

In his Rift Valley visit, the DP was accompanied by Senators Charles Keter (Kericho) and MPs Liza Chelule (nominated), Samuel Lelelit (Samburu West),
Joseph Lekuton (Laisamis), Kimani Ichungwa (Kikuyu), Dan Wanyama
(Webuye West) and Nakuru Deputy Governor  Joseph Ruto.
Ruto said the Jubilee government is focused on development and will work with anyone interested in the same. Development is the reason he and President Uhuru Kenyatta decided to form JAP, he said.
"Our national unity will remain elusive as long as our politics is based on ethnicity," Ruto said. "We must be brave enough as leaders to show the people the way to unite. In Jubilee, we have resolved to collapse all affiliate parties as a way to unite all Kenyans."
Ruto said the government has set aside funds this year to resettle families who were left out of the first resettlement of Mao Forest evictees.
– the-star.co.ke