Witness rule can't be used in Ruto Hague case – AG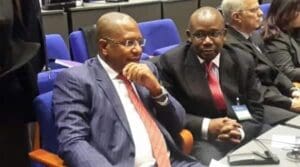 NAIROBI, Kenya, Aug 25 – The Government on Tuesday said it will seek to be enjoined in an appeal challenging use of evidence of prior statements in the case against Deputy President William Ruto and journalist Joshua arap Sang.
Attorney General Githu Muigai told Capital FM News that Trial Chamber V (a) botched a promise made to Africa that an amendment to Rule 68 of Rules of Procedure and Evidence would not be applied retrospectively.
"We will seek to be enjoined even on the appeal filed by the Ruto defence because we think it is a very important question on how the court operates," Muigai opined.
In November, 2013, a Kenyan delegation of top government officials including the Attorney General, Director of Public Prosecutions and Foreign Affairs CS put up a spirited efforts to block passage of the procedural rule which would allow prior recorded statements being used in court.
Kenya lobbied other African member states to reject the amendment.
However, Kenya was later convinced to pass the amendment after a promise that Rule 68 would not be applied retrospectively.
It was on that basis that together with other African countries, they supported the amendment.
"Officials of the court who were the ones championing the reform of the rules undertook to every delegation they were selling the amendment to that this rule would not apply retroactively," Muigai recalled.
When ICC Prosecutor Fatou Bensouda asked the court to allow her to use evidence of six witnesses who had recanted or withdrawn, it did not occur to the defence teams of Ruto and Sang or the Government of Kenya that the court would actually violate the promise made to them during the 12th session of the ASP held at The Hague, Netherlands.
"This comes as a great shock… it is a surprise. It is also acting in total violation of undertakings given to the state parties," Muigai complained.
-capitalfm.co.ke