43 students stranded in Russia appeal for State help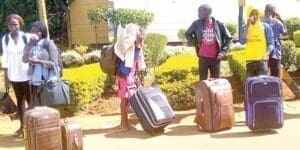 At least 43 Kenyan students studying in Russia on a joint Kenya-Russia governments' scholarship have sent out an SoS to the government to save them from inevitable deportation after Kenya's Education ministry allegedly failed to send them living allowances.
The students who range from first to fourth years in their education careers went to Russia on joint Russia-Kenya governments' scholarships, where, Russia agreed to meet the students' tuition and accommodation expenses.
On the other hand, Kenya was to cater for the students' basic needs of about Sh30,000 in every three months. Yesterday, Education ministry through the spokesman Kennedy Buhere confirmed that they had received the complaint and were addressing it.
"The Ministry has received these concerns, but let me get full details before I can get back to you," Buhere told the People Daily by telephone. According to the students, the Russian government has continued to meet its obligations, but Kenyan authorities have allegedly reneged on their commitments.
In the SoS sent out to Kenyans in the Diaspora, the 43 students alleged that they were living in horrid conditions in Russia and want the government to bail them out of the impending deportation.
In their distress letter, the students said: "To the leaders of our beloved nation of Kenya, we are young Kenyans studying abroad…,we are a very frustrated lot, as we watch fellow foreign students from other countries, including those not economically stable in our continent Africa such as Somalia, Rwanda and Burundi get support from their governments." "Our dear country leaders, you know this more than we do, that it's morally wrong for a country to officially send out its citizens without due regard to their welfare.
Kenyan students on partial government scholarship are suffering and an embarrassment to the otherwise highly regarded nation. We have cried before, and we will continue crying for as long as nobody seems to listen to us," they said in the SoS.
The students alleged that the Russian government has paid for them tuition and accommodation expenses but they have no money for food and other necessary needs, such as annual visa renewal fees, commuter and insurance expenses.
Some of the affected students include Eva Mwikali, who went to Russia last year and is pursuing Aeronautical Engineering at Samara State Aerospace University—Passport Number A2230116, [email protected], Mike Mutichilo, who went to Russia in 2012 and is pursuing a Bachelor in Law, at Southern Federal University, Fred Nyaga, a Computer Engineering student at National University of Science and Technology, who went to Russia last year—Passport Number A2186320 and Joshua Nyamweno, who is also pursuing Engineering, Aircraft and Helicopter design and construction, at Samara State Aeroship university—[email protected] Passport Number A2217676.
The students claimed Kenya's MPs allegedly prevailed upon the Education ministry to stop sending them the stipend of $300.00 (Sh30,000 in current exchange rate) ostensibly because "students in Europe can find jobs to supplement their living needs."
-mediamaxnetwork.co.ke